The goal is to inspire people to learn more about natural products and show that natural beauty is mainstream, contemporary and delivers results.


Vila Vasoodaven, Green Chic
We certainly are spoilt with choice these days as promises of 'natural', 'organic' and 'green' can be found branded across a large portion of skincare products which fill the shelf. The challenge we are now faced with is having the ability to sift through the jargon to identify authentic and ethically run companies, who have produced a natural product, which actually works.
Necessary research and shopping around takes time (we so seldom have) and the everyday consumer definitely can not afford to learn these lessons the hard way – right?
I get it!
So let me throw out a helping hand right now and introduce you to Vila, this week's guest to CWMS. Vila is the Founder of the unique online cosmetic store here in the UAE called Green Chic and is more than qualified to research all the finer details behind product labels. Green Chic has a not negotiable set of guidelines when it comes to ingredient choices and proudly supports both local and international companies who meet the exacting criteria, including a stand against animal cruelty.
Delve a little deeper and you will notice Green Chic shares more than chic beauty products.
Vila's strengths lie in her commitment to recommending products which perform to the highest level, combined with her firm belief and passion for ultimately supporting healthy lifestyle choices. She understands first hand how beauty stems from the inside out and uses Green Chic as a platform to share whole food recipes, healthy lifestyle routines and, thanks to her Mum's influence, is also happy to educate us on #DIY cosmetic ideas which include natural ingredients scientifically proven to enhance your skin.
Definitely a lady we all need in our lives – here's why…
CWMS – How has your previous professional experience helped to establish the foundation of Green Chic?
GC – I worked as a healthcare researcher with the NHS and then as a strategy consultant and market researcher here in Dubai. So it definitely helped in the area of research prior to launching Green Chic. I wanted to make sure that the brand caters to our customers' need for great natural products but also to establish a place where products are safe to use. So my research background helped in conducting interviews with women to get their thoughts about natural skincare, what they are looking for and in identifying our top 14 toxic ingredients list.
To add to that, I have been using natural skincare for several years so it was important for me to show via Green Chic that natural skincare is effective as well as being better for you. So using my experience with using natural products and research on trends, I identified products that fit that description. The goal is to inspire people to learn more about natural products and show that natural beauty is mainstream, contemporary and delivers results.


CWMS – What is the most important message you would like to portray to the Green Chic community when it comes to achieving healthy and glowing skin?
GC – The message is achieving healthy and glowing skin is very much possible with natural beauty products. A lot of these products not only contain ingredients that treat the area of concern but also nourish and protect it through the addition of antioxidants and vitamins. Everyone's skin is unique so it can take time discovering the right products for you but it's so worth it when you find them. 
CWMS – Green Chic is putting a spotlight on toxic ingredients. What are the key facts people need to be aware of when debating a choice between products with natural and organic, verses toxic ingredients?
GC – Good natural products contain ingredients from natural sources while organic contains some or most ingredients that are organically farmed. The 3 key things to note when deciding between natural/organic vs products with mostly toxic ingredients is the safety of ingredients, quality of ingredients and the ethics of the brand. With natural products, safety is a key priority and excludes ingredients known to be harmful to our health. Secondly, they tend to have far better quality ingredients. Where products containing toxic ingredients tend to use a lot of fillers to bulk products up, natural/organic products use oils and plant extracts to provide more skincare benefits. You will see this in skincare products but also very apparent in natural makeup too. Lastly, founders of good natural/organic products are passionate about what they do and aim to create products that are also ethical so they tend to be environmentally friendly and cruelty-free


CWMS – As well as supporting ethically run and environmentally conscious brands, Green Chic has listed 14 ingredients which we will not find in any of their recommended products. What is the driving factor which led to you not supporting products with these specific ingredients and does your list include microbeads?
GC – As natural beauty products are unregulated, it is easy for a brand to claim it has a natural product when that isn't always the case. So the driving force behind the toxic ingredients list is to bring some clarity on where we stand on the standards of products chosen but also to help our customers out – it can be really confusing deciphering an ingredients list so by screening through the products, we can offer them some assurance on the products they are purchasing.
The list is made up of ingredients where research, well-informed natural beauty stores or global organisations have deemed as risk factors to our health. So for example, the European Commission has found there is sufficient evidence that dibutyl phthalate (DBP) is an endocrine disruptor so for that reason we have included phthalates in the list.
Microbeads are not permitted due to their impact on the environment. While not specified on our list, some forms as made from petrochemicals, which forms part of the list. However, just to be clear, we will be making a note on our list that all forms of microbeads are not permitted.


CWMS – Leading up to the launch of Green Chic you put your time and energy into market research and also sent a 'call out' for product testers. Did the results show women as complex individuals or did we all have a more simple set of basic needs?
GC – It was really interesting actually. The main finding I got from the interviews is that women wanted choices. While some women specifically only used natural products, the vast majority selected natural products because they felt it either worked or that they wanted to incorporate natural products into their skincare routine. I think for a lot of women, they do like the concept of natural beauty products but are so accustomed to using mainstream products but all it takes is trying a few products to realise that the natural options are great.
The product testing was initiated right after we launched and it went well. I did request unbiased reviews and a lot of the feedback was on how well the products performed so really pleased with that.



CWMS – One visit to the Green Chic Instagram page and it is clear there is more to healthy glowing skin than carefully selected beauty products and makeup. How important are our lifestyle choices with our visual health?
GC – Wellbeing is a mix of different things including physical activity, the food we eat, emotional state to the products and lifestyle we choose so I wanted the Instagram page to reflect that. There is plenty of info out there to show the link between our lifestyle choice and beauty. Examples of this include how certain fruits and vegetables help in reducing oxidative damage leading to premature aging, the link between digestive health and your skin condition as well as how stress affects acne. So lifestyle choices have a big impact on visual health


CWMS – Our Mums tend to be the first women to influence our values when it comes to beauty routines and it sounds like your Mum Vila, has given you a taste for #DIY skin care. What do we need to keep in mind when making products at home?
GC – Yes it's quite fun! But there are certain things to consider. I actually wrote about Three Things to be Aware of with DIY Beauty Recipes on our blog but the main things to consider are being careful in using essential oils and understanding the shelf life of your DIY recipes.
Essential oils are amazing but are very potent and powerful and using too much of it can lead to skin irritations and reactions. So it is very important to use them with care and following the recipe instruction. As a general rule, for a 2% dilution, you can use up to 12 drops of essential oils per 30ml of carrier oil or lotion. This needs to be half for children and the elderly but if you are pregnant, best to check with your doctor on using essential oils.
Also, it is important to know the shelf life of your products. If you are making water-based products such as toners or masks using fruits, it is important to know that they don't last long so use it within 2 days of making it and keep it refrigerated.

CWMS – Is there one self care ritual we should make time to treat ourselves to everyday regardless of our busy schedules and how will this benefit our overall health and frame of mind?
GC – Oh goodness, this is a tricky one as I think it's very individualistic! I don't think there is a particular ritual I have but what I have found is that a simple 15 minutes break to indulge in something you love such as a nice cup of tea, meditation/prayer or a magazine just helps in bringing joy and new perspective on things. Also exercise helps a lot both in relieving stress and keeping you in shape.

CWMS – What have we, the Green Chic community, got to look forward to with future theming of the Website's Blog?
GC – The plan is for the website to be more than just beauty, to be about wellbeing. We have been about showing the link between beauty and health so it makes sense to incorporate the other aspects about it. I am very excited about this and we have already started on this by talking about body positivity, highlighting eco brands and healthy recipes so more to come.


CWMS – Lastly, how or where is the most practical starting place for people keen to transition to natural and organic skin care and makeup?
GC – Don't throw everything out. The best thing is to transition slowly as it can take time finding the right product for you and it can be expensive doing it all in one go. Start by switching your biggest toxic offenders – body moisturisers, lipstick and deodorant before moving on to skincare.
———- // ———-
The connection between living a happy, healthy and green lifestyle, while being kind to our planet, can easily become lost in the bustle of quick and easy conveniences and changing habits gets pushed further and further down the never ending 'to do' list. Green Chic is determined to make the transition easier by providing a convenient and central shopping experience focused on motivating you to invest in your long term wellbeing. As Vila is taking care of the prior research and product sourcing, you will find yourself with more spare time on your hands – and that is just priceless!
Pin For Later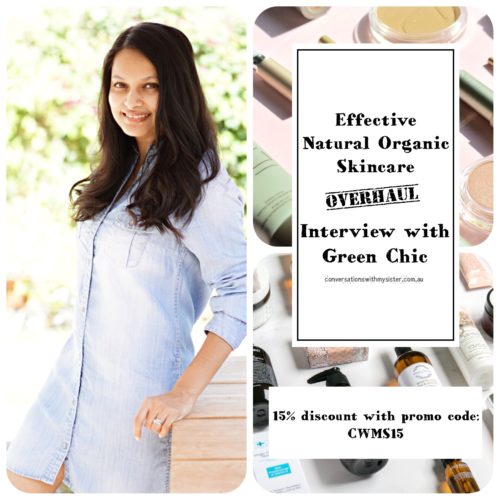 Enjoy a 15% discount at the checkout with promo code: CWMS15
How can Vila help you? Has this interview sparked a few questions you would love to have answered? Have you got a favourite brand or specific product which aligns with the natural/organic criteria you have found you can't live without – we would love to hear about it? Please join the conversation:
Join the conversation
Comment Section Below || Instagram || Facebook || Pinterest
For all product specific questions and enquires you can contact Vila at Green Chic directly via:
Email: hello@greenchicme.com
Website: Green Chic 
Social Media: Facebook || Instagram || Pinterest
Until next week,
X Shea
P.S. 📷 All photos courtesy of Green Chic
Disclosure: CWMS has in no way or means been sponsored by Green Chic to write this post. It has been such a pleasure connecting with Vila and I am thrilled to have the opportunity to share her story with you all. As always, CWMS's mission is to inspire conversations which aligns with our Keeping it R.E.A.L ethos.
Previous conversations