"Don't be concerned about reaching your destination. Enjoy the journey and the destination will take care of itself".
unknown
How does this sound – lazy afternoons on the Margaret River wine trail, happily sampling a drop or two chosen by the friendly wine connoisseur at the cellar door, while admiring the spectacular Autumn colours covering the countryside. Followed only by romantic candlelit dinners and evenings snuggled up in front of an open fire, casually sipping a local red bought while exploring the local wineries.
Enough daydreaming about images seen in glossy magazines promoting indulgent and romantic getaways for two. What about when you visit the area with children and it rains off-and-on the whole time – eek…
Don't panic, I'm all over it!
Here are some activity suggestions which will keep the whole family entertained (regardless of the weather), during a weekend Road Trip to the Margaret River Region of Western Australia.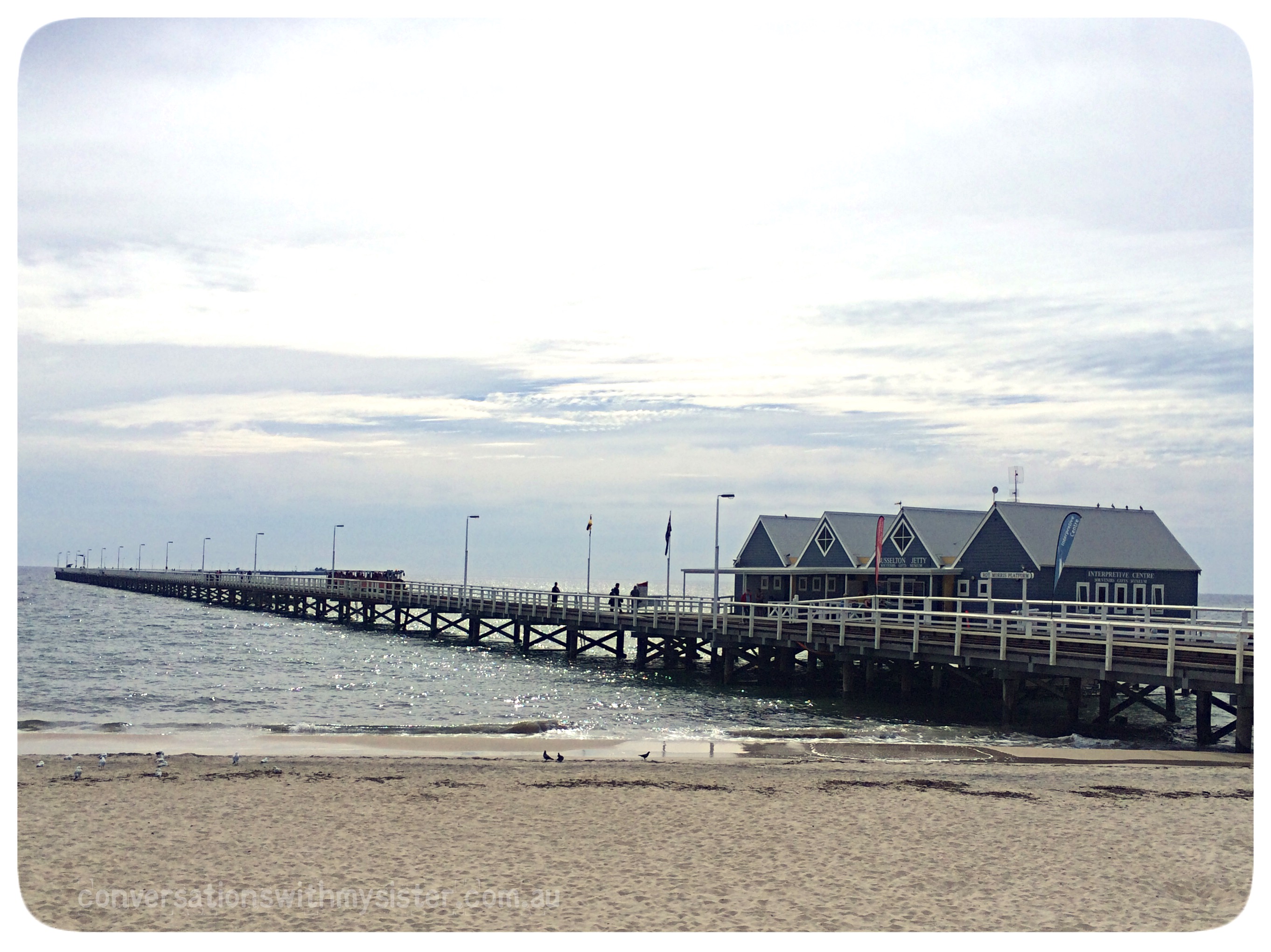 Allow three, to three-and-a half hours for the direct route to the region from Perth however, one of the best things about a great Aussie road trip is, not only arriving at the destination, but enjoying the unexpected discoveries which can be found during the journey.
While places such as Bunbury, WA's third largest city and home to the checkered lighthouse, is one place worth considering calling into, the one place I highly recommend you allow time to visit during your trip is Busselton Jetty.
The gorgeous Busselton Jetty is 1.7kms long making it the longest wooden jetty in the southern hemisphere. Construction began back in 1853 primarily to accommodate the shallow waters which restricted ship access. Busselton Jetty is now heritage listed, looked after by the BJECA (Busselton Jetty Environment and Conservation Association) and operates purely for locals and visitor's enjoyment.
Plenty of people can be seen making their own way along this wooden attraction, enjoying a spot of fishing or committed to their daily exercise routine, but not us. The highlight of allowing time to explore and pick up some lunch at this coastal area, was taking a 45 minute ride on the Busselton Jetty Train. 
You can also visit the underwater observatory, book an underwater helmet walk, take a walking tour or visit the cultural heritage museum. Keep an eye on the time if you are 'en route' as you can easily lose a good couple of hours here.
Iconic Margaret River Wineries
We can assure you travelling with children doesn't mean you can't stop in and visit the estates. In fact, children are great explorers and there is no shortage of interesting things to discover at wineries, or perhaps you could settle in at one of the family friendly restaurants. If you aren't 'dining in', Parents can easily go 'tag team' to visit the cellar door while the rest of the 'crew' set off exploring or playing in and around the lush grounds.
Margaret River enjoys a mediterranean climate of mild wet winters and warm dry summers. I was so interested to read how the combination of this climate, the rocky soil and the sea breeze, makes for the perfect environment to produce complex aromas from these finest quality grapes. The area is ideally suited to Cabernet Sauvignon and Chardonnay, however, you will also be spoilt for choice with Merlot, Shiraz, Sauvignon Blanc and Semillion varieties as well. With 215 wineries and 95 cellar doors – you are sure to find your perfect drop…
We are far from wine experts, just lovers of great wine which was thoroughly enjoyed at the Estates listed below. Those interested in reading more can follow the links attached to each individual name.
A brew house which also makes wine, complete with a classic 'humble beginnings' story involving a brew kit, laundry and several disasters. This undulating property can be found above Eagle Bay, Cape Naturaliste and is surrounded by the family sheep and cattle farm which provides a spectacular backdrop for restaurant guests to enjoy.
The Eagle Bay grape is grown on 15 acres of the property and, due to its small land size, are then taken off site to the best local wine makers to produce their unique limited release wine, as opposed to having a winery on site. Eagle Bay have no plans to expand they instead aim "for our small 15 acre plot to be the best cared for and loved 15 acres of vines in the Margaret River region."
Even with our quick visit we could clearly see they are well on track with staying true to their vision…
"Our vision is to supply fresh, quality farm produce in a friendly, relaxed and casual environment. We believe local food is better for us, better for the environment and it tastes better. We have a simple passion for real food; our goal is to use organic, seasonal, local produce exclusively."
The first Vasse Felix vine's were planted in 1967 making this the founding winery established in the Margaret River Region. One other unique drawcard to visiting this winery is, along with the restaurant and cellar door, the property proudly houses an indoor art gallery and showcases sculptures from local artists in the estates gardens. It was these and the 'middle earth' like landscaping which kept our children occupied while we explored the underground cellar and took turns in tastings at the cellar door.
Vasse Felix practise a sustainable and organic philosophy of "fruit quality through plant health and plant health through soil health." They have a natural compost program, sheep grazing as natural weed control, use water from the dams and rainwater tanks, have implemented a recycling program and are Ambassadors with the Australian Packaging Covenant to continually source, utilise and encourage others to consider sustainable packaging.
A winery which is a certified Biodynamic, Carbon Neutral and is naturally powered was always going to grab my attention. In fact, Cullen Wines is the first Australian winery to offset the carbon dioxide emissions under the Carbon Neutral program.
As my limited education and understanding of wine continues to develop, my appreciation of sustainable practices and keeping to the most natural process possible during the preparation of food and beverages remains stronger than ever.
My understanding is that Biodynamics at Cullen's rely on the health of the soil keeping it alive with mineral, plant and animal substances rather than chemicals and sprays. The moon rhythms dictate viticultural practices and the wines have no additions of yeast, acid or malolactic culture. The results are a holistic and natural approach to both caring for the vineyard and the winemaking process. Their biodynamic culture extends to the Cullen's restaurant which serve food prepared with only organic and biodynamic produce.
While visiting the winery you can enjoy a Self-Guided Biodynamic Tour in the spiral garden where you are encouraged to touch, feel and read more about the biodynamic process implemented throughout the estate. A great interactive activity for the whole family.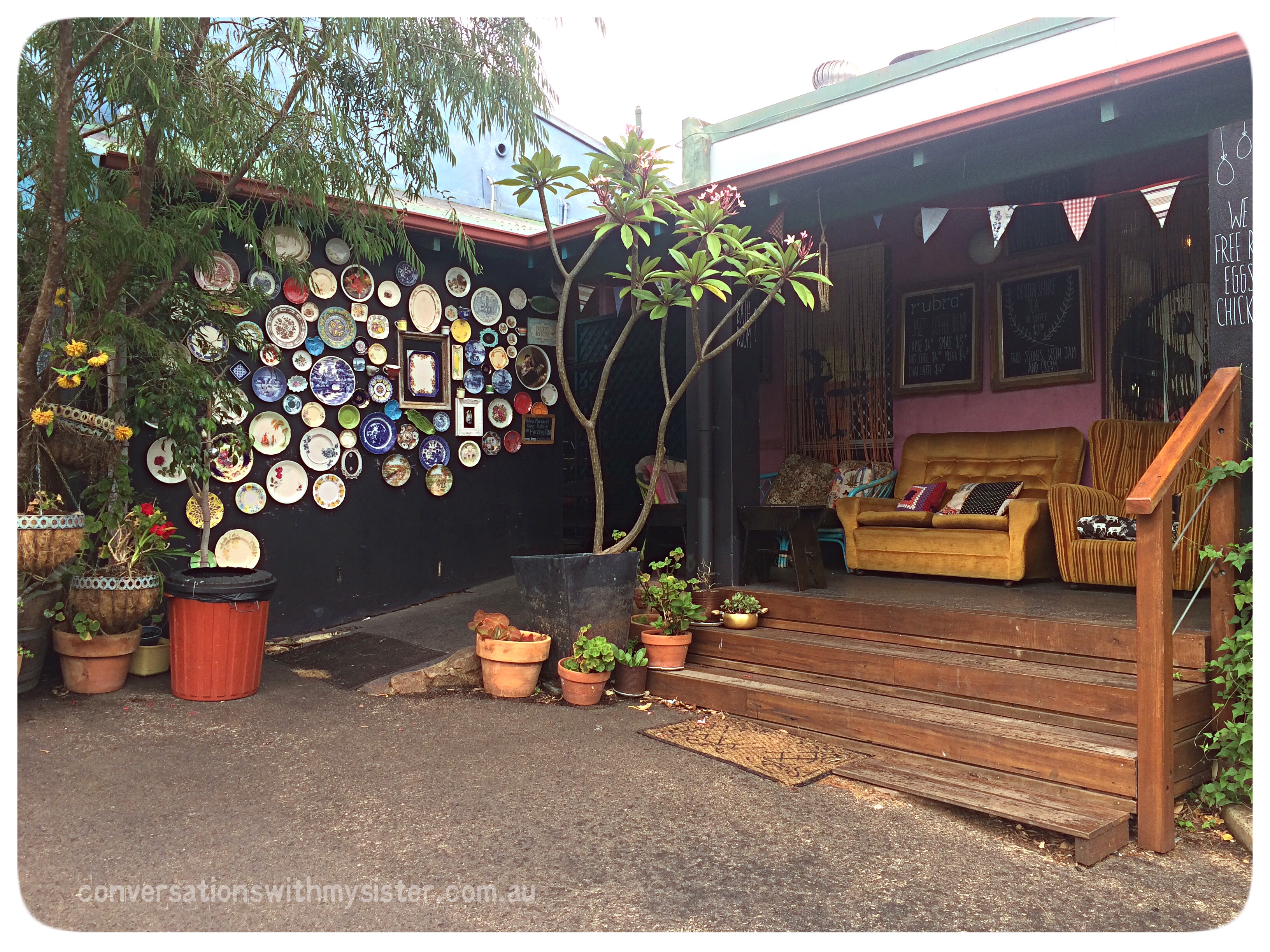 My impression of Margaret River (Marg's) is that it is home to a fiercely loyal and proud community. The main street is lined with unique and independently owned businesses with an emphasis on promoting locally made and harvested produce, perishables, crafts, homewares, children's toys, clothing etc. The town proudly displays all the reasons why the region earned the title of Australia's most Outstanding Region by Delicious magazine in 2015.
Marg's is the perfect place to pop in for a visit and grab some food after a successful morning of tastings. We had a delicious lunch at the 'must visit' Margaret River Bakery (I just couldn't resist the eclectic decor) and it was super easy to find a green smoothie full of natural goodness at Revive Health Foods located at the top of the street.
I would have loved to have spent more time exploring the quirky nooks and crannies but we were on a tight schedule and keen to make it to the end of the country…
Most South-Westerly point of Australia
The advantage of exploring the wine trail as a family (let's stick with the positives) means you are travelling by car (rather than on a tour) and therefore, once you have visited a few wineries, can continue exploring other features of the area. Head towards the town of Augusta and visit the most South-Westerly point of Australia where the Indian and Southern Oceans meet. Here, along this spectacular part of Australia's rugged coastline, you will find the Historic Water Wheel and Lighthouse Cape Leeuwin which really are very cool to see!
The Historic Water Wheel was built in 1895 to supply water to the builders of the lighthouse and then the lighthouse keepers cottages. The water was supplied by a natural spring and delivered a litre of water from every full revolution of the wheel. These days the water is pumped by an electric motor due to the dropping of the water to the spring, necessary to keep it moist and prevent it drying out and cracking.
At 39 metres tall The Cape Leeuwin Lighthouse is Australia's tallest mainland lighthouse. It opened and was automated in 1895 and is located on the country's most South-Westerly tip, where the Indian and Southern oceans meet. Tours do run daily but, unfortunately for us, our visit coincided with the end of a big day. With tired children and a constant drizzle of rain settling in, we were happy to admire this working lighthouse from a distance, before heading back to our accommodation. The view from the top, on a brilliant clear, day must be just incredible.
Yallingup
Swimming in the spectacular beaches which are Yallingup during a wet Autumn weekend isn't ideal for cold blooded people. However, admiring this part of relatively untouched WA coastline, surrounded by the nature and wildlife of Cape Naturalist National Park, can't be missed. The coastline stretches for miles and it is easy to see why it is loved by surfers, snorklers, artists, hikers and everyone in between. The various accommodation options, art galleries, cafes, wineries and local pub form a strong local community which although isn't big, resembles the same unique quirkiness which we have continued to stumble across and enjoyed exploring, during our time in WA.
Ngilgi Caves
If you find yourself with bad weather while visiting Yallingup, a great 'all weather' activity is to head underground to explore the Ngilgi Caves. The 500,000 year old Ngili Caves were discovered beneath the Cape Naturaliste Ridge in 1899 and are completely covered with stalactite, stalagmite, helicitite and shawl formations and are rich in aboriginal mythology. The caves were originally know as the Yallingup Caves and were later renamed after Ngilgi, the good spirit, who defeated the evil spirit Wolgine.
Tours run every half an hour and offer part guided talks explaining the history of the caves, while also allocating you time to just wander around and explore at your own leisurely pace. You have the opportunity to see the newest and therefore smallest formation, right through to the largest and most dramatic piece in the caves. Crawling through tunnels, climbing up and down well worn, narrow stairs and generally just exploring a cave is not only great for the children but completely fascinating for adults as well.
Accommodation
There is no shortage of accommodation options in and around the Augusta/Margaret River Shire. Can I suggest you begin by refining your search to preferred outlook, sea or tree, then decide on your style – Cottages, Villa's, Resorts, B&B's, Guest Houses, Apartments, Hotels or Motels.
We chose the best of both worlds during our visit as we stayed at the Pullman Bunker Bay Resort.


The resort is nestled next to Cape Naturalist National Park and backs straight on to the Western Australian coastline of Bunker Bay. Our villa, with a relatively private courtyard and garden view, was generously sized and tastefully decorated. Natural and local materials have been featured through-out the design from generously surrounding the complex with native landscaping, to including sandstone, jarrah timber and limestone in the building structures.
We enjoyed a modern Australian meal at the restaurant, complete with a varied choice of local wine and stunning views over Bunker Bay. The children were happily entertained in an adjoining games room, joined us when dinner arrived, then eagerly returned to this convenient space and continued their play while we enjoyed some adult time – a happy compromise to the romantic candle lit dinner I was dreaming about during our departure from Perth…
Interested in reading more WA Discoveries?

Our time living in Western Australia was such an incredible adventure and during our short visit, we learnt the value of Less Is More, my 2015 annual theme. In fact, we enjoyed embracing the Less 'Stuff' More 'Experiences' lifestyle so much, we decided to temporarily pack up our life in Australia and are now living as expats in the UAE. So while we're on the topic of road trips, here's a link to our first adventure into the desert here – Desert, Souks and an Oasis – Family Road Trip to Al Ain. 
It is/has, been quite a journey!
Are you on Instagram – that's my favourite social media account and where you'll find all our everyday moments as they unfold. Love to have you joining our conversation…
Enjoy and have a brilliant week,
X Shea
P.S. Recommended reading: Looking for family travel ideas still? Let us inspire you with 7 ideas for epic road trips to take with your kids before they grow up!   Compiled by Baby Globetrotters
Previous conversations