"What I stand for is what I stand on"
Wendell Berry
A Terrarium is an 'on trend' ecosystem and the perfect way to add a touch of green to a little corner of your home. Choosing to feature succulents and cacti is perfect for us 'desert dwellers', as these plants require little water to grow. Here are the 5 simple DIY steps you need to follow to make your very own.
This week is Sustainability Week here in Abu Dhabi and our family got involved by spending the day at the annual Festival at Masdar City. This Festival is held over the entire weekend and offers the chance for residents and visitors to enjoy a range of interactive activities, street stalls and entertainment.
The event is organised into specific zones designed to educate visitors on sustainable living principles in a fun, family friendly environment. You can read more about the Masdar City Sustainability Festival, complete with images of this unique eco village, in a previous CWMS blog post here.
Those who have previously read this Festival post, or attended today's event, let's move straight to the Greenhouse Zone (my personal favourite), where you can join me in making a Terrarium.

You Will Need:
A glass Terrarium, bowl, jar or vase with large opening
Potting mix
Drainage pebbles/gravel
Succulent, cacti or indoor plant
String (optional)
Decorative stones
Step One:
Today we were provided with a glass Terrarium. The shallow depth ensures water can quickly evaporate, a wide opening at the front for easy placement of the plant and holes at the top for airflow.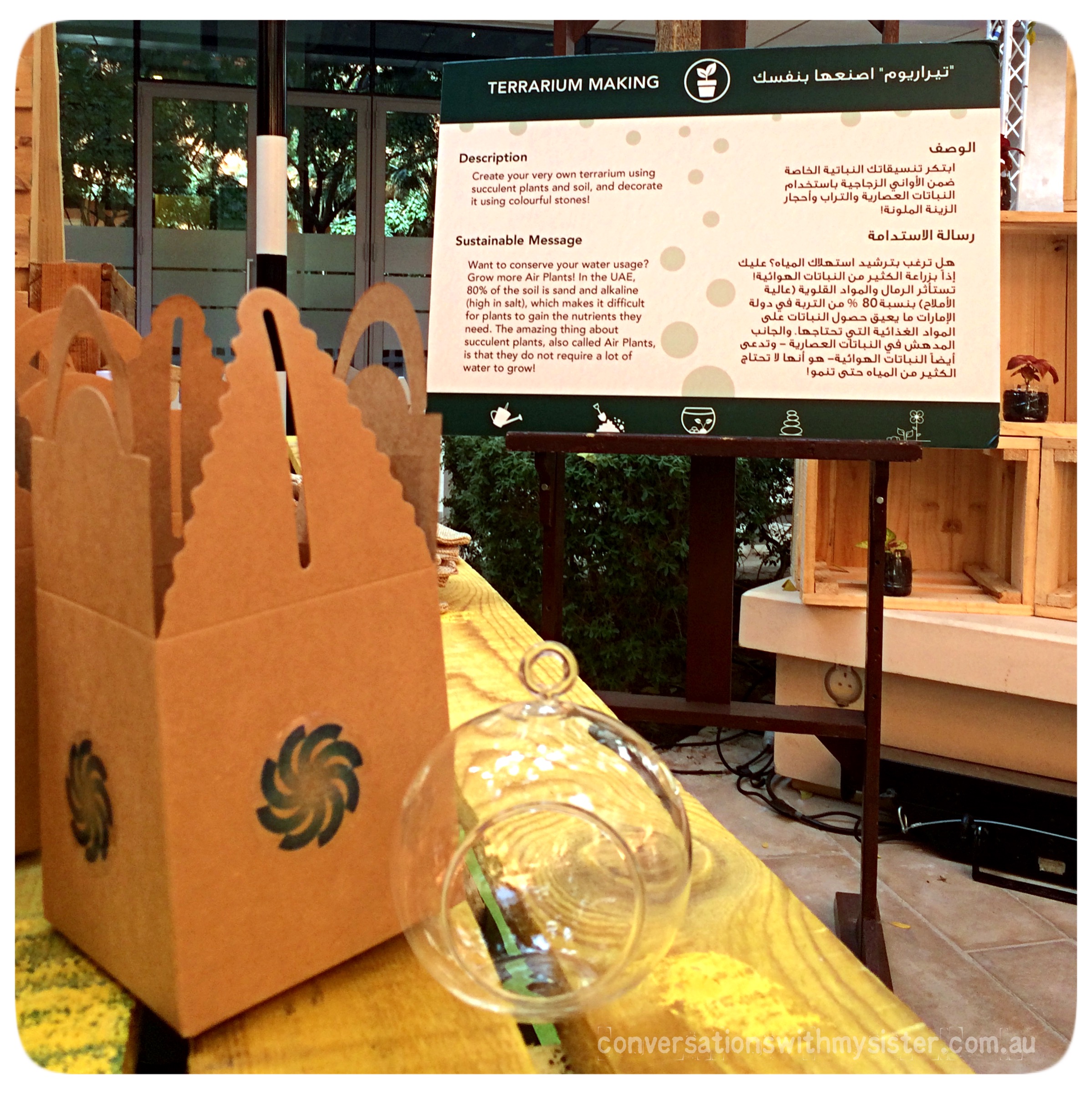 Keep your eye out when visiting local charity shops for suitable vases, bowls or jars and even have a look at what you might have at home, tucked away in the depths of your cupboards. This is the perfect opportunity to create a unique and quirky homemade gift for yourself, or to give to someone special.
Step Two:
Next we added the potting mix, either a succulent or indoor plant blend. Be careful not to overfill your Terrarium, you need to leave room for the plant and the pebbles.
Step Three:
At this stage we added a layer of pebbles, as succulents need good drainage. If the soil remains too wet the root system can rot, which could mean the end of your plant.
Step Four:
Now the Terrarium is ready for planting. If you are using a bigger terrarium you will be able to choose more than one plant. Maybe you are lucky enough to know someone with a succulent collection who is happy to share clippings?
Indoor plants also work well in Terrariums however, not in with succulents or cacti. Make sure you only combine plants which need the same amount of water. A succulent or cacti, which is watered once a week, isn't going to enjoy living with an indoor plant which may need to be watered every couple of days.
Keep your Terrarium interesting by grouping together plants with a mixture of textures and colours, remembering to place the larger ones towards the back. Loosen the roots first and, if you are having trouble with the arrangement, try chopsticks or tweezers to help move your plants into place.
Optional
The next step for us was to add the string. Brown string is definitely a personal favourite of mine and is a great environmentally friendly option.
Do you have a collection of string and ribbon saved from unwrapping presents? This would be the perfect place to look before you pop out and buy something new.
Step Five:
The finishing touches. Today we were given the choice of white, pink or blue stones to finish our Terrarium. I love the simplicity of the white, especially with the rustic string.
Shells would also be a great option and something we certainly have no shortage of at home thanks to our little beach combers.
Home Maintenance – this is the part where I would appreciate some feedback!
The recommendations so far, to ensure our little Terrarium enjoys a long life are:
Keep in bright, not direct, sunlight, as the glass can radiate and amplify the suns rays. No we don't want to cook the little plant thank you very much!
Let the soil dry out between waterings to prevent mould and root rot, which is bad news for these little eco systems.
Spray water onto the inside of the glass to keep it looking nice and clean.
Is there anything else I need to know?
Sustainable Message from Masdar:
"Want to conserve your water usage?  Grow more Air Plants! In the UAE, 80% of the soil is sand and alkaline (high in salt), which makes it difficult for plants to gain the nutrients they need. The amazing thing about succulent plants, also called Air Plants, is that they do not require a lot of water to grow!"
The Greenhouse was definitely our favourite zone at this years Masdar City Sustainability Festival. Here are some other featured ideas sharing creative ways to reuse and upcycle household items into practical and quirky pieces. The ultimate goal is to reduce the amount of waste we generate and lessen the impact on landfills around the world.
But wait – there's still more !
Use this link to our Instagram Stories to see more clever up cycling ideas and activities, enjoyed during our visit to Masdar.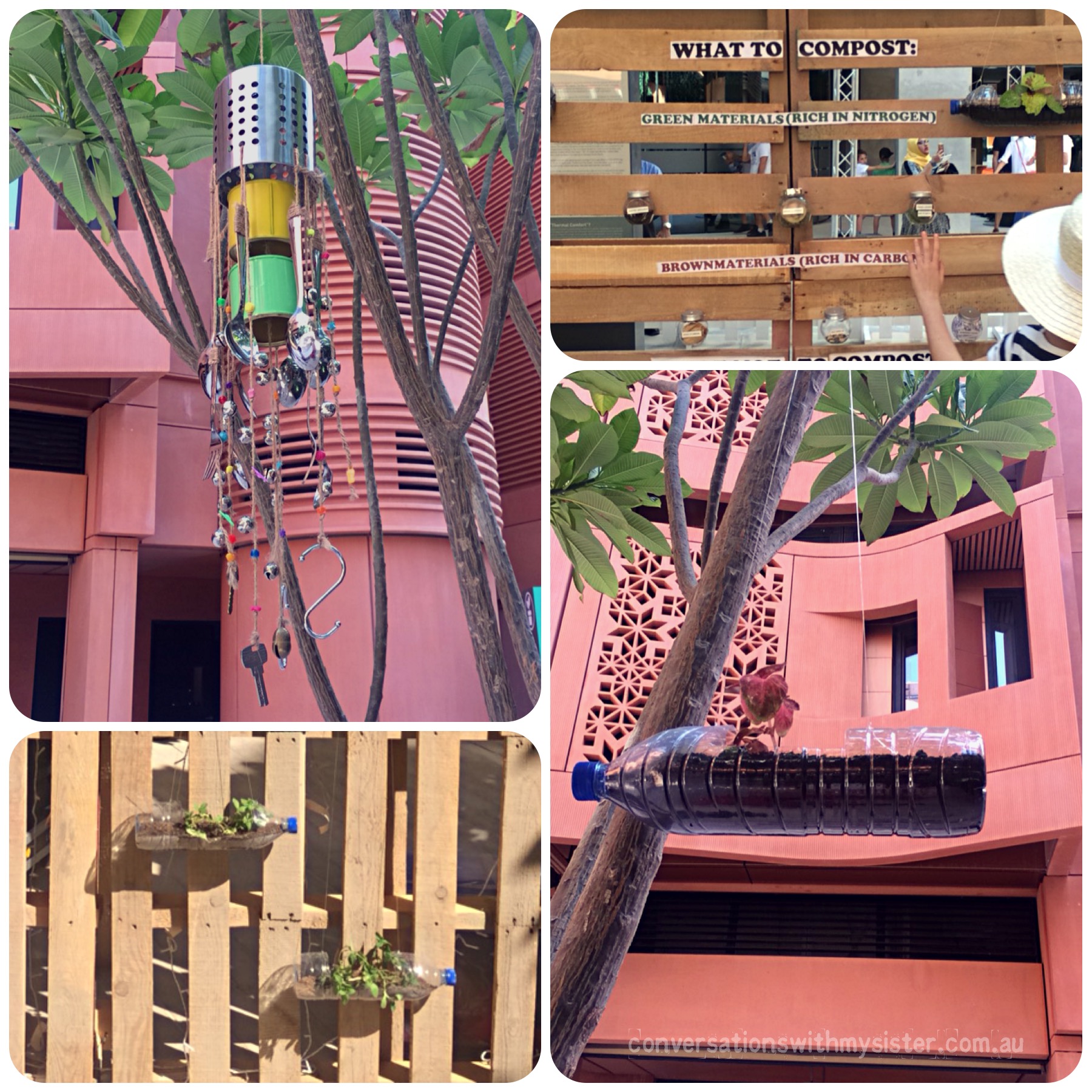 Pin For Later
Continue Reading…
And remember to get the children onboard, these are easy hands on ideas the whole family will enjoy!
Who could you share this post with and (hopefully) inspire to begin the New Year with greener lifestyle ambitions?
Join the conversation
Comment Section Below || Instagram || Facebook || Pinterest
X Shea
Previous conversations