"Do Something Now.
If not you, who? If not here, where? If not now, when?"
— Theodore Roosevelt —
When a school community realise the tide is constantly delivering a large quantity of plastic pollution to their end of the ocean channel they organise not just one, but two successful Beach Clean Ups. Their primary focus being to remove the offending waste before it re-enters the ocean current and, by doing so, leave behind a clean and considerably safer environment for their children to 'Play By The Bay'.
Amity International School is a relatively new school for the residents of Abu Dhabi and is perfectly positioned next to the Bay. Its unique location has inspired a marine focus and provides the students with the opportunity to enjoy a variety of water sports, designed to take full advantage of their close proximity to the water. This is supported by their 'Learn And Play By The Bay' School Motto.
Throughout the year (weather permitting), small groups of children can be seen heading down to the local boat ramp, keen to jump on the available vessels and test their skills as young sailors. Quite a novelty for any school and especially so for this group of young expat children who currently call the desert home.
There is just one terribly sad thing amiss within this idyllic setting and that is a whole lot of intruding rubbish, the majority being plastic and the origins of which are land based.
Where does our plastic go?
"In 2012, 5 Gyres gathered a group of scientists to establish the world's first Global Estimate of Marine Plastic Pollution, which we published in 2014. Together, we determined that there were 269,000 metric tons and 5.25 trillion particles on the ocean's surface. The 2017 United Nations Clean Seas Campaign estimated that there are 51 trillion microplastic particles in the ocean today—500 times more than the number of stars in our galaxy."
Why the urgency to encourage change?
Anyone who has participated in a Beach Clean Up will tell you the majority of the rubbish collected is plastic. When it comes to plastic there is no 'away'. Plastic will never biodegrade, instead it will slowly break down and become tiny little pieces called microplastics.
Aside from the proven fact that plastics leach toxic chemicals, there is also the disturbing knowledge that it is being digested by our marine animals and wildlife, an unconscious act on their behalf which more often than not, results in fatal outcomes. This also raises the issue of the amount found in the fish that we rely on for consumption. An obvious progression resulting from the amount of plastics now floating in our oceans.
There is no better person to explain how our world has become so plastic, than Tim Silverwood, cofounder of the non profit organisation called Take3. Listen to his inspiring and insightful TedX talk here.
During both of the local Amity School Beach Clean Ups, plastic water bottles received the unanimous vote for the most common item that people found, followed by varying sizes of plastic remnants. People were constantly shocked to find what at first appeared to be small pieces of plastic and, as they bent down to remove it, discovered a large portion was hidden under the sand.
How can we take a stand against plastic pollution?
The number one message Sustainability Advocates and Environmentalists are tirelessly working around the world promoting, is the importance of us, as a society, replacing disposable living habits and choosing to reuse. It is, in a nutshell, encouraging a return to our Grandparent's somewhat frugal way of thinking.
We are seeing huge levels of success around the world as these dedicated Activists message gains momentum.
Several countries and individual cities have begun placing either charges, taxes and/or bans on the circulation of single-use plastic bags including (but not limited to) Australia, America, Africa, India, Europe Indonesia and China. Most recently France and India have taken one step further with banning plastic cups, plates and cutlery and San Francisco is the first American city to ban plastic water bottles.
I could continue sharing positive 'news' from around the world however, that is not the focus for today's blogpost.
Related post:
Starters Kit – 5 Reusable Items to Replace Single-use Plastic
Lunch Box Essentials to Simplify Your Life, Save You Money and Change The World!
Like it or not, the problem is plastic pollution has become a fixture on beaches all around the world and we need to rally together and choose to become part of the solution.
Starting now you can join millions of individuals worldwide who have adopted the Take3  habit. The Take3 message is to simply pick up three (although don't feel you need to stop at three 😜) pieces of rubbish and dispose of them correctly when leaving a beach, waterway, park, nature reserve, side of the road, car park, desert etc. The ocean is downhill from everywhere so please, continue this habit anywhere you come across discarded rubbish.
Those of you living in the UAE might consider joining CWMS in promoting this simple routine and, by utilising the effective 'word-of-mouth' communication channels, share your commitment via the hashtag #Take3UAE. Please remember to tag @conversationswithmysister so we can track the momentum and celebrate your success with you.
The next suggestion for those looking for ways to help, is to organise or become involved in, a local Beach Clean Up.
Although involving small numbers or a community group in a Beach Clean Up takes a bit more organisation, the rewards have enormous potential. In the two local events at Amity School, with volunteers donating a total of two hours of their time, we have seen a combined removal of approximately 40 cubic metres of rubbish, a total which is just staggering.
Surprisingly, organising these Beach Clean Ups were easier than you might think. Here's how it was done…
 How to coordinate a community Beach Clean Up event:
Preparation:
1. Create a clear 'Call To Action' document which features specific details such as:
Eye catching and thought provoking imagery to promote the 'WHY' aspect
Location
Date
Start and finish time
RSVP contact
Sponsors logo
Appropriate dress – protection from the elements
Safety issues – (especially if young children will be involved) include cautions around picking up glass, rusting metals, sharps etc
2. Prepare a 'To Bring' list which can be included on the one announcement or as a separate document. Consider separating the 'To Bring' list with two columns. One side listing the times which will be provided by the organisers and the other side a list of suggested items which individuals can bring from home. For example:
PROVIDED
Single-use gloves
Garbage bags
Refreshments (tea, coffee, water)
Sharps container
PROMOTING SUSTAINABLE ALTERNATIVES
Heavy duty and reusable gloves (for example gardening gloves)
Thick durable bags which are perhaps sitting idle in the cupboards at home
Reusable water bottles for hydration which can be filled up from provided water stations
Reusable tea or coffee mugs and offer to 'pour them a cup' once the job is done
Gardening tools such as rakes and shovels for easy collection of microplastics and bottle caps
3. Use a poster style document which is simple and clear. This can then be easily printed and circulated on appropriate noticeboards or conveniently shared via email, social media channels and via text messaging groups.
4. It is a nice gesture to arrange for refreshments to be available after the clean up which brings a social vibe to the event
5. Organise the correct bins to dispose of the collected rubbish
6. Consider adopting an event Sponsor. Amity School was proud to be supported by 'Abu Dhabi Friends of the Environment Society' who provided the necessary equipment, donated 'sponsor' t-shirts and were involved in coordinating and running the event on the day.
On The Day: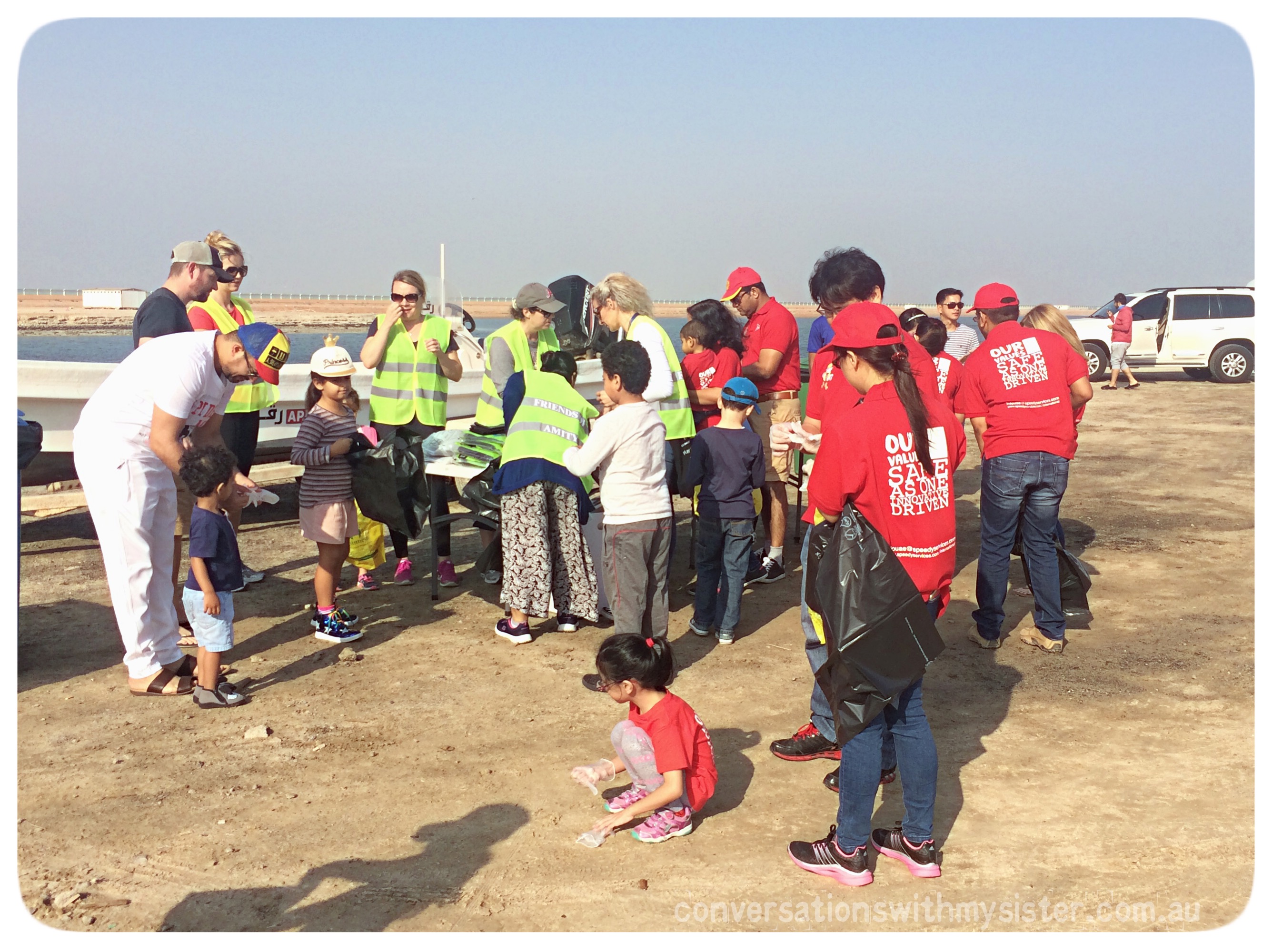 1. Set up the meeting point
2. Have all the provided equipment clearly laid out
3. Establish specific areas which need attention and steer people in the right direction
4. Have movable bins on hand as collection bags become too heavy to carry
5. Consider organising vehicles to transport heavy items such as discarded car tyres, metal or whitegoods
6. Volunteers to separate the items for correct disposal and recycling and/or documenting the specific items of rubbish
7. Establish an end time. Unfortunately it is not always possible to collect every item of rubbish and, we have found, it is more beneficial having people leave on a high rather than exhausted. That way they are more likely to commit to the cause long term and happily attend future events.
The Amity School Beach Clean Up attracted two other local businesses, Speedy Services and TWMA. These companies were our 'muscle' for the morning and provided the manpower needed to dislodge and transport the heavy items which were found such as car tyres and scrap metal.
There were many inspiring moments during these two Beach Clean Ups, with the most memorable being glancing back and seeing such a drastic and positive transformation.
Everyone left feeling extremely proud they contributed to cleaning the area ready for the enjoyment of the schools young sailors and ultimately helping to sustain our so very important waterways.
In the words of our eight year old 'Young Environmentalist' "It's important Mum, to keep our sea's healthy and for us" !
The two Amity Beach Clean Ups were the first events organised by the newly established Friends of Amity (FOA) Committee. The event was supported by the School Principal, who was one of the first people to pull on a pair of gloves and grab a bag to fill with rubbish, closely followed by the Teachers, Parents and Children.
The Beach Clean Up even attracted the attention of the wider community who also generously provided their time to help out on the day. You could just feel the sense of pride in the air as everyone gathered at the end of the clean and, as Miss Barbara the School Principal so eloquently summed it up, "It lifts peoples spirits to do something good!"
Pin For Later
Personally, I couldn't be prouder to be involved with a community who are passionate about educating our younger generation on the importance of developing sustainable and positive lifestyle habits. This is just one example of how we can all lead by example and #bethechange! After all –
It's Our Plastic, It's Our Problem!
X Shea
P.S. Special thank you to Amity International School for giving CWMS permission to publish several of their photos in this blogpost, including the featured group shots.
Disclosure: CWMS has in no way or means been sponsored to write this post and the thoughts and opinions expressed are purely our own. CWMS is passionate about sharing the important message of plastic pollution and keen to start conversations which align with our Keeping it R.E.A.L ethos. Consider this a personal invite to join us:-
Comments Below || Instagram || Facebook || Pinterest
Previous conversations