It Starts With You
Masdar City
Last weekend the residents of Abu Dhabi were invited to Masdar City, one of the world's most sustainable eco-cities, as the doors opened for its annual two day sustainability street festival. The free family festival, is organised with the intention to provide a fun range of interactive activities, street stalls and entertainment, all sharing information aimed to increase the understanding and awareness around a future built on sustainable living principles.
The event is part of the Abu Dhabi Sustainability Week and proves each and every one of us can take action and make choices everyday, which support a clean and healthy future for our planet.
The festival is divided into 9 zones:
Chill Park, Craft Village, Fun Fair, Greenhouse, Oasis, The Eco Lab, The Impulse Stage, the Market Place and the Tunnel Of Art.
There is a complimentary map available which clearly lists the zones and guides you through the weekends events. Each zone features sustainable living themes and explains aspects of renewable energy. They are designed to provide you and your family with ideas and inspiration in a fun and entertaining environment.
This was our Family's first visit to Masdar City and I was excited to have the opportunity to learn more about this development and the UAE's sustainability journey. As we entered the city we found the architecture of Masdar City itself completely inspiring and, as the children disappeared to the reading corner, my Husband and I checked out all the textures, angles and design elements which welcome you the instant you arrive.
Unfortunately the organised City Tours didn't line up with our plans for the day so, instead of attempting to relive the details of the city and it's buildings now, I will promise instead, to get myself on a tour in the near future. Then, when I share the details, it will be with much more accuracy.
So lets get right on with the festival which was filled with entertaining and inspiring events, introduced with a sign listing the sustainable message and thought provoking call to action.
Greenhouse
The children enjoyed potting their own herb in a tin at the Greenhouse Zone and learnt '1 recycled tin can would save enough energy to power a television for 3 hours'. The sustainable message here was also 'questioning how many miles your food had traveled, encouraged choices of buying local and suggested learning how to grow your own produce in the UAE'.
RELATED POST – How To Make Your Own Succulent Terrarium in 5 Easy Steps
#DIY at the Greenhouse Zone 2017
Craft Village
There were 6 activities on offer at the Craft Village including: Planet Hand Factory, Eggspress Art Station, Helping Hands of Earth, Recycled Jewels, Sand Art and Colour & Wear. The highlight of this zone for our children was Colour & Wear – choosing a renewable energy stencil and colour the design on your very own take home t-shirt. The sustainable message here was 'a household running a tumble dryer 200 times a year could save nearly half a tonne of CO2 by switching to a washing line'.
The Eco Lab
The Eco Lab provided hands on activities showing the practical aspects of solar and wind technologies. The children put together a wind turbine, participated in solar panel experiments and even assembled and raced a solar power car. They had loads of fun manipulating their panels in the sun and using the shadows to sabotage their opponent. There were lots of 'ahhh' moments which opened the conversation of wind farms and solar energy during the car trip home. Proof the next generation are well and truly excited with the possibility of a cleaner future – even though at 7 and 3, they aren't entirely sure, exactly, what that all means!
Tunnel of Art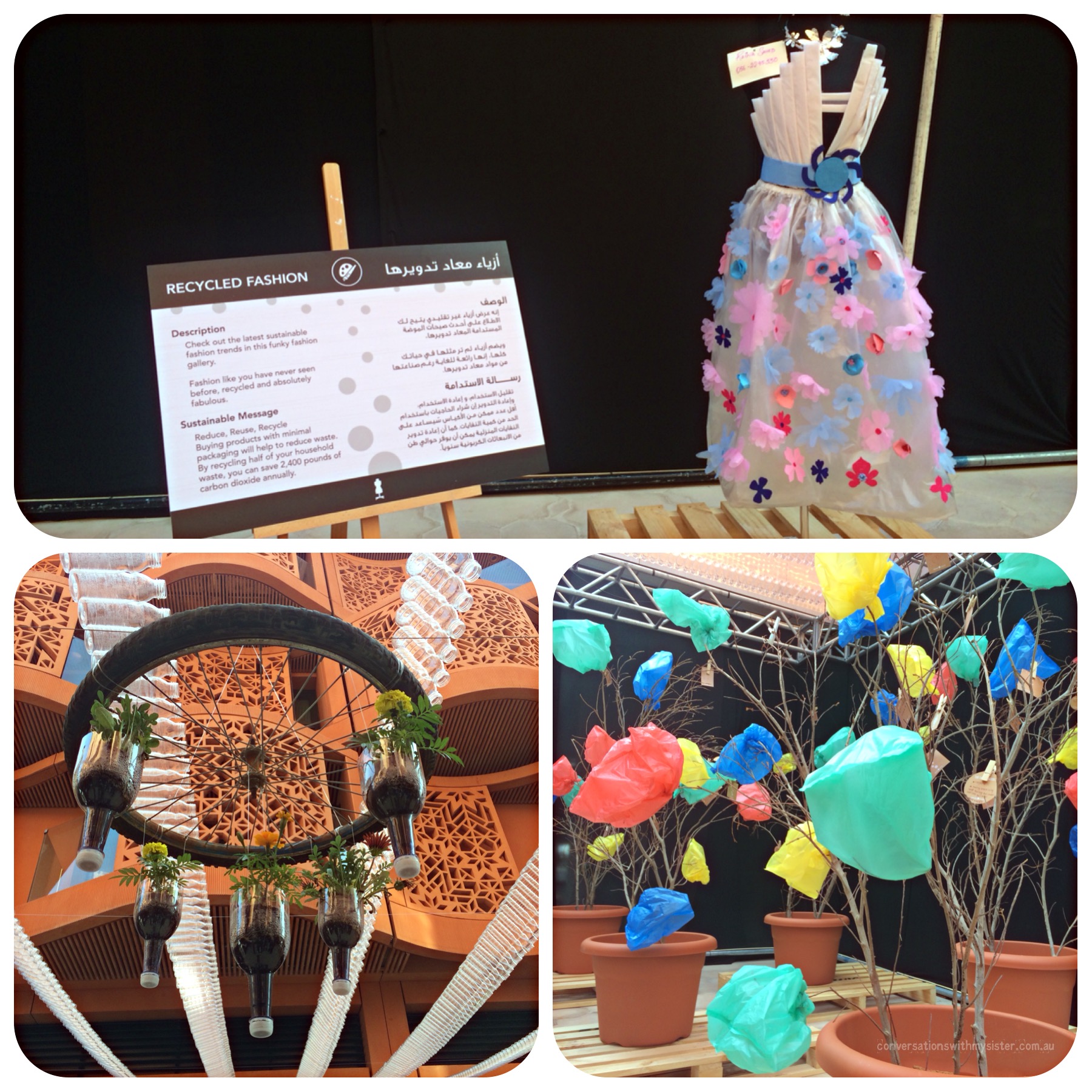 The Tunnel of Art explored the concept of how any household object can be repurposed and used for both practical purposes such as growing plants or, as a chance to be creative and make something new and interesting – one man's trash is another man's treasure!
The sustainability messages were recycling facts such as, 'if all our newspaper was recycled, we could save about 250 million trees each year' and 'recycling 3 billion plastic bottles is the equivalent of saving over half a million barrels of oil and eliminating 400,000 tonnes of harmful air emissions'.
The children were also invited to finish a sentence on a card stating 'The Earth Needs…?' it was inspiring to see the huge queue of passionate children for this activity keen to share their personal thoughts on this question.
The Market Place
The Market Place was the perfect place to find 'Eco Bites' and cold refreshments (which I had to work hard for 😉 … ) as well as an opportunity to browse the stalls. I was thrilled to find The Green Ecostore and equally inspired to hear how DGRADE are successfully turning recycled plastic bottles into wearable and funky fashion.
The Oasis provided a comfortable place to relax and listen to live buskers while the Chill Park was buzzing with activities for the children such as portrait sketches, balloon twisting and face painting. I also loved the use of repurposed wooden crates for tables and chairs which we used at lunch time. There was heaps of fun happening at the Fun Fair and The Impulse Stage through-out the day which really does prove this event had a little bit of something on offer for everyone.
I have come to realise for an event such as this to be a success, the activities need to combine a range of elements designed to engage the audience and, in the case of a sustainability festival, provide ideas of how we can change our habits and have a positive impact on our immediate environment. Judging from the smile on everyones face today and the level of interaction by a variety of nationalities and age groups, I can certainly say this was achieved.
It was inspiring to see people engaged, keen to take action and become part of the solution of ensuring a cleaner, greener, sustainable future. Actually for a passionate, sustainability convert such as myself, it is really exciting.
Well done Masdar City!
– Shea
Previous conversations