This weeks story is a run down on how our family enjoyed a spur of the moment trip to Perth for the Easter holidays. It includes warnings about crazy buskers with whips and ends with a recount of lessons learnt. It is a bit of a long story so read the post now, remember it's here if you ever find yourself heading that way or 'share' if you know someone who is!
(If you click on the subtitles you will be taken straight to the individual websites for more information).
Open Top Double Decker 'Hop On-Hop Off' Bus Tour
For the first half of our visit we didn't have a car so, an Open Bus Tour was the best way to get a clearer understanding of the lay of the land and gather our bearings. The bus tour included interesting landmarks around the city such as the Perth Mint, the Barrack Street Jetty, Crown Casino, Kings Park, Harbour Town outlet shopping and returned to the City Centre. Baby Girl was rocked to sleep on my lap in no time and Little Man was as 'Happy as Larry' (who's Larry?) sitting in the open air, grabbing the leaves off the trees as the bus passed under the low hanging branches.
We bought a 24 hour pass from the bus driver for our trip but there were plenty of packages available including combinations of walking tours and cruises to Fremantle which looked like great value.
The bus tour showed us many interesting sites throughout Perth but, the one we unanimously chose to 'hop off' for was Synergy Parklands, the children's playground in Kings Park. As well as incredible views of the city, Kings Park is absolutely one of the best and definitely most interesting parks we have discovered to date. Consider it a 'must do' when visiting Perth.
Synergy Park is set on lush grasslands, surrounded by natural bushland and comes complete with coffee shop, small kiosk, relatively clean public toilets, BBQ's, unfenced duck pond (one reason the park is recommended for children over six), climbing forts, slippery dips and swing sets. The stand out feature was the displays of extinct fauna and large-scale statues of prehistoric dinosaurs which the children climbed all over and happily posed on for many photo's.
Another area of King's Park we are sorry to have missed was the Naturescape. This is an area for children to connect with nature, get dirty, build cubby houses, splash in brooks and explore the great outdoors in a natural bushland setting. This sits on the top of the list for our next visit to Perth.
Shopping
There is no shortage of shopping choices in Perth. King Street is a luxury haven with brands such as Prada, Gucci, Louis Vuitton and all their 'pals' lining the street. The adjoining malls offer all the standard names you would expect to see in a CBD such as Body Shop, Target, Myers and K-mart combined with a great mix of independent stores. Shopping wasn't on my list of priorities for this visit so, although there was probably some real gems to uncover in slightly out of town precincts and down quiet little lanes, this wasn't the trip they would be discovered.
We did however spend a couple of hours wandering around Harbour Town and let me tell you most of that time was spent exploring the heavily discounted racks in Alannah Hill!
A great discovery was made on our Harbour Town shopping afternoon – all bus and train trips within the city boundaries are free. Free! Look out for the Free Transport Zone (FTZ) logo at bus stops, train stations or CAT (another bus service) stops. After a couple of days walking everywhere with a pram and an almost six year old in tow, this was great news!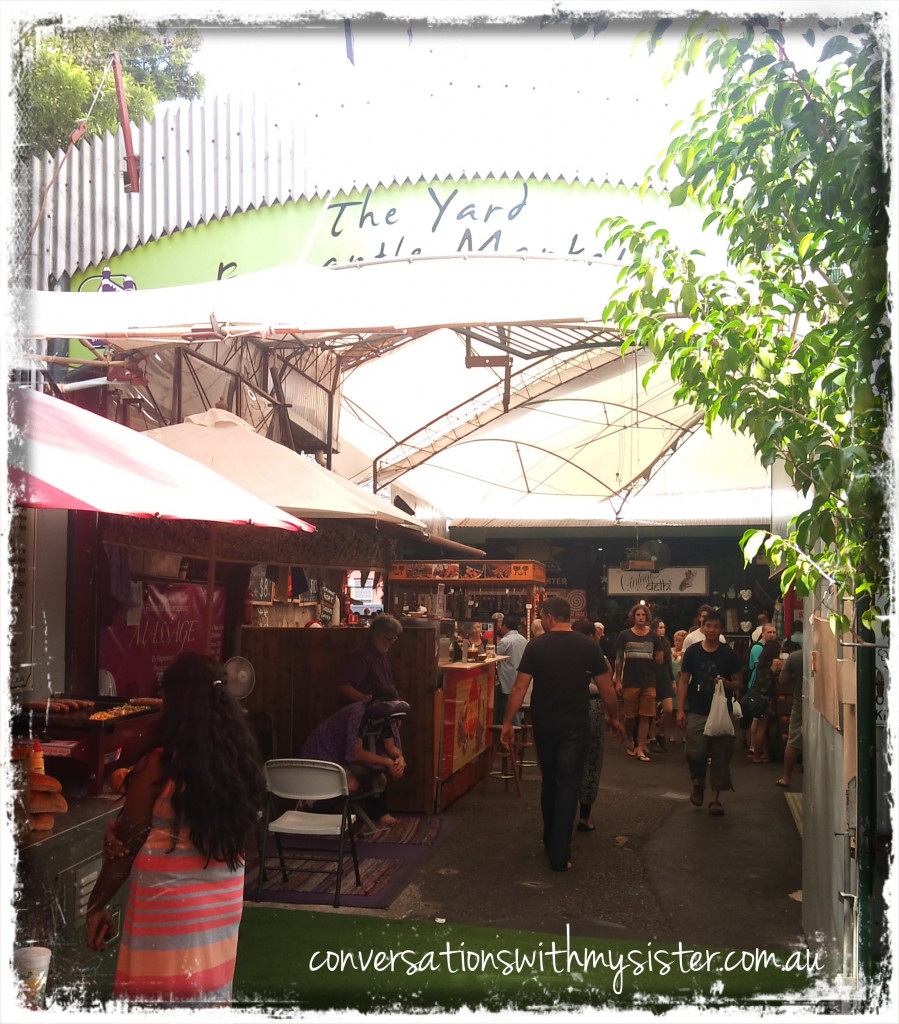 Fremantle is accessible by all forms of public transport – Bus, Train and Ferry. We were lucky enough to borrow a car and headed off for a day trip. 'Freo' (as the locals call it), is situated South-west of Perth and hugs the coastline. It is home to a stunning collection of heritage buildings and proudly houses luxury yachts and vessels in the Marina.
The 'Freo' Markets were established in 1897 and are located inside the original Victorian building. This was the draw card for our visit. Allow a full day to explore the individual stores selling a wide variety of foods, fresh local produce, delicious coffee/hot chocolate, leather goods, home-wares, homeopathic medicines, clothing, jewellery, kids toys…the list goes on. Our Little Man was thrilled to go into the animal yard and happily had his photo taken (more than once) with a snake wrapped around his shoulders. His Mother (me) of course would have preferred he was happy sticking to patting the Koala.
A word of warning…
Beware of the buskers who are located out in the mall in front of the pub. They are quite incredible to watch – just make sure you aren't standing in the front row or the chances are you will be picked to 'assist' rather than enjoying a laugh and being entertained from the sidelines…!! 🙂
Aquarium of Western Australia (AQWA)
We drove out to Hilary's Boat Harbour which is North of Perth and spent the best part of the day both inside the Aquarium and exploring the Boat Harbour. You can catch a train and connecting bus if you need to rely on public transport.
Our Little Man will tell you visiting the Aquarium was one of the highlights of his trip to WA. It is hard to pin point whether it was the walk through aquarium with sharks and 'ginormous' sting rays swimming all around or the petting tanks where visitors are welcome to actually reach into the pool and physically touch the dog sharks, sea cucumbers and star fish. Baby Girl was completely besotted with the turtle who was in the 'rehab' tank as well as all the colourful aquariums and pools showcasing the sea life. All in all there is over four million litres of water holding 4,000 fish and amazing coral, all living, for you to explore. Take your swim suit if you fancy diving or snorkelling in the tank with the sharks or going on a leisurely 'reef walk'.
Although the aquarium has a cafe (and gift shop) the surrounding area, known as Hilary's Boat Harbour, is well populated with cafes and coffee shops along with snazzy boutiques all competing to attract the tourists. We could see the beach from the coffee shop and it had some fun looking ocean water slides and children's park which looked like a perfect way to spend a few hours on a warm sunny day.
Cottesloe Beach
It was a cold, windy, April afternoon when we arrived at Cottesloe Beach so swimming was out of the question. The most spectacular feature of this beach is a building known as 'Indiana', taking pride of place. Originally the building was known as The Indiana Tea House and was the local ice-cream parlour. The site was redeveloped in 1996 and is currently housing a restaurant and function centre upstairs with the Surf Life Saving Club downstairs. You can just image how many weddings would be held here each year couldn't you?
After the children burnt off their energy on the park equipment we took a leisurely walk along the beach, past the Indiana, ending up at the break wall. On this particular day, my 'better half' (who should've known better) and two children got soaked by a random wave rising up over the rocks. Hilarious!
On our way home we discovered the Boatshed Market. This is beyond a doubt, the place to shop for fresh produce, meat, fish and flowers and is worth a visit while you are in the area. The fresh produce displays the farms label, the fish is sourced locally, the deli has great meal ideas and the bakery shows European flair – all under the one roof! You will find an interesting range of both gourmet and specialist foods including gluten free, organic and 'homemade' keeping a true foodie amused for hours. There are plenty of options available if you are looking to take home an easy, yet fresh and healthy dinner or a fancy collection of nibbles and snacks.
We came across John Oldham Park on Mounts Bay Rd, quite by chance during an afternoon exploring the area around our accommodation. It became our 'go to' place in the afternoon as a two bedroom apartment quickly becomes too small for a couple of young children with energy to burn. A perfect area to encourage not only the development of motor skills but the use of all of their senses to connect with nature.
The first few visits were all about crossing the wooden bridges, teasing the ducks and swans at the waters edge (we forgot to take dry bread), watching the little waterfalls, collecting sticks, leaves and stones (as you do!) and exploring the surrounding scrub. Time was spent testing out the rotating climbing frame, disc swings and climbing forts in the playground area however, the main attraction which captivated the kids attention was the slippery dip. This was no ordinary slippery dip, it was the longest one our children had ever seen. They spent many hours during our stay sliding down in every position possible; even on pieces of cardboard kindly left there by a fellow thrill seeker.
My cousin and his business partner own a bar called 'Varnish on King' so this is a shameless plug for them – what's the use of having a cousin who writes a blog if she can't give a personal 'shout out' for a deserving business and family member, right?
It is easy to understand how this 'Food, Whiskey and Wine Bar' has enjoyed multiple awards and rave reviews since its grand opening. With a clear focus on their branding and a cheeky grin from the Bar Mascot – J. Beaver, you will instantly feel welcome, relaxed and ready to settle in.
Since we were traveling with two young children and no baby sitter, my recount comes from having a quick 'sticky beak' in the afternoon before heading home. My husband has enjoyed a couple of evenings at Varnish since then and although yet to 'dine in', he has reported back to me that the service he received and saw during his visits, is second to none.
Think I might be biased? Check out their Facebook page and you can see for yourself…
You have my word that these pages will only ever be filled with honest reviews and recommendations – regardless of any affiliates, family members or friends. If I didn't think it was great, I would have left it out!
Lessons Learnt
Our trip was a huge success but if I was to leave you with one 'Hot Tip' it would be to pre do an online grocery order before you leave home and have it arrive at your holiday accommodation after you are schedule to check in. We stayed in a self contained unit as we have found, when traveling with children, it is essential to have a full supply of food at your finger tips. Grocery shopping is definitely not a fun activity to spend valuable time doing on holidays especially if you are relying on public transport.
We did our online order the day after we arrived in Perth. The delivery man arrived at our door and carried all the bags into the kitchen for us (they deliver in plastic bags in WA as well) – we just wished that happened on the first day not the third!
It is more than likely we will fly to Perth again later in the year so, for those of you who are familiar with the area, I would gladly welcome some ideas for our next visit.
Has this weeks 'Show and Share' on Facebook been enlightening. I certainly have appreciated all the 'likes' and feedback regarding the changes with my site. I might even go as far as to say I am quite proud of how far 'me and technology' have come and am enjoying settling into a nice comfortable familiarity with the whole caper. Now to sit down and concentrate on some great content to keep you all happily connected and tempt you to join in the conversation…
Thanks for sticking with me and reading to the bottom of this extra large post 🙂
– Shea
Previous conversations