It was during my Pop's recent visit, a couple of weeks ago, that bees once again became a hot topic of conversation. We were discussing our backyard and the Native Australian Bees which have taken up residence. The bees originally settled in a fully established tree, quite possibly before we moved in, however 'their' tree was deemed unsafe by a tree surgeon and sadly had to be removed. The insightful tree loppers, carefully separated the portion of tree which housed the bees and positioned it safely in the garden. The hive appeared unaffected by the transfer and now it is on ground level, we have a clear view of the bee activity – which is awesome!
It is easy to imagine how many of these nests are accidentally destroyed during natural disasters, landscaping, gardening and clearing activities. We are so pleased the tree loppers had the foresight to save the nest during the tree removal process and appreciate how lucky we are to have these very clever and extremely important pollinators settled in our backyard. We are proud to be part of the solution protecting these valuable insects in a time when their existence is under threat.
Aussie Bee  calculates there are around 1,500 species of Australian Native Bees. The Stingless Social Bee (Tetragonula Carbonaria) thrive in warm areas of Australia, which is why they are completely contented in our Queensland backyard. Native Bees aren't primarily known for their honey as they produce less than one litre per year. They are more importantly recognised as successful pollinators, crucial in sustaining bushland and our food supply especially: macadamia's, mangoes, watermelon and lychees. As these bees are stingless, they pose no health risks and are perfectly safe to have in your home environment. There are no rules or regulations around keeping native bees in fact, there is one Sydney Council running a program which has placed 350 hives in homes (as of February 2014), with a waiting list of around 150 people hoping for placement. You can read more about this program here.
Although the native bees are great pollinators, it is the European honeybee which is most commonly known (Apis Mellifera), introduced into Australia in 1822 and capable of producing up to 200kg of honey in a good season. Honey and bees wax is well known for its medicinal properties and of course honey. Local bush honey in particular is certainly a favourite both on toast and in certain recipes at our house. The fact that the honeybee successfully fills two important roles, producing honey and working as a efficient pollinator, makes them commercially valuable worldwide.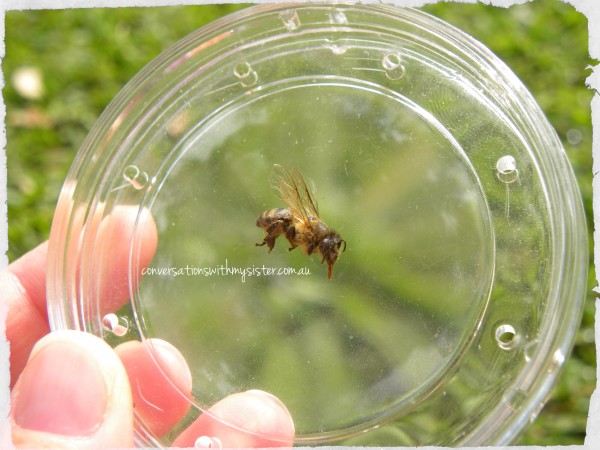 Bee's are a hot topic of conversation at the moment and it seems while our family is learning the importance of sustaining our bee population, we are also hearing how many countries are having their honeybee population dramatically drop. One of the reasons for this is due to the outbreak of Varroa Mite (Varroa Destructor).
According to Cunningham and De Barro (The Conversation, CSIRO, May 2014), Australia is still free of this destructive mite but it is heading our way. The threat of this mite entering our country is so great that between AUD21M and AUD50M has been invested annually over the next thirty years to 'delay' the outbreak. The article continues to say the mite caused American feral honeybee populations (bees living in the wild) to crash with Bee Keepers loosing 30% of their managed hives. Even closer to home New Zealand's (famous for their Manuka Honey) North Island, with similar quarantine defences as ours, recorded their feral honeybee populations reduced to 10% of what they had previously been. The honeybee is responsible for one third of human nutrition so when it is recorded that Bee Keepers are struggling to keep up with the demand of crop pollination, it is a genuine worry.
Along with the outbreak of this devastating mite, honeybees are struggling with urbanisation, resulting in loss of their native habitat, as well as battling with the use of pesticides on their food supply. Saunders (February, 2013) reports that many agricultural farmers who once heavily relied on this free pollination service, are having to rent honeybee hives from commercial bee keepers during crop flowering season. Take a minute to imagine the stress this causes the bees and the health of the hive as they are being transported around the country to various climates in the back of a truck. Is their role beginning to sound similar the that of battery hens; especially after reading they are forced to feed on unnatural diets of sugar syrup in between jobs. But what is the alternative?
As far as free pollination this act is shared between more than 20,000 bee species, 100,000 wasps, 240,000 flies, beetles, moths, ants and butterflies and they help relieve the pressure from relying solely on the honeybee. It is discussed in the comment section below the above referenced article, that the varroa mite specialises in honeybees, so native bees will not be affected. 'Going native' is looking like a positive solution to sustain free pollination. Although more documented research is required in Australia to confirm the support these other native pollinators provide, other countries have begun to prove how crucial the role all these native wild pollinators play.
This information shows just how invaluable the natural process of pollination is to sustain natures intended circle-of-life and gives a whole new found respect for the humble bee and it's family of insects. There are lots of positive steps being taken by the government, individual councils, organisations, businesses and passionate people who are doing amazing things to sustain the bee population and industry as a whole. With so much information available on bees (both honey and native) and insects, the message is being sent, urging us to act now if we want to play a role in protecting these valuable members of society.
Small steps we can all take, me included, to make a difference are:
– Protect our valuable insects and hold off from reaching for insecticide sprays unless really necessary.
– If you come across a native bee nest protect it. The Aussie Bee website  has some really useful information to help get you started.
– Plant food and flowers in gardens. Gardening Australia has a terrific article on how 'The Verge' are encouraging bees, as well as many fact sheets and articles around building up your garden.
– Support local Bee Keepers buy buying ethically grown local honey.
The Great South East  ran a feature on Bee One Third and their rooftop honey last month and I have just discovered you can buy their honey at Biome .They are referred to as neighbourhood honey and ethically harvest from their rooftop hives in Brisbane's inner-city. Honey that 'is what it says it is' and tastes delicious.
In an article published in Peppermint magazine (Summer 2012) these passionate Apiarist predict – "Bee's are the new chickens" as far as the ever growing numbers of people keeping bees at home.
– House a bee hive at your home.
As you know we were lucky enough to have attracted our bees with no intervention so these sites are ones 'google' have provided and I am simply passing on as opposed to me having personal experience with them.
I would LOVE to continue this conversation about bees either via Facebook or the comment section below. Photos, bee experiences, great local honey, or any other related information you have to share would be terrific!
Bee happy and have a terrific week,
-Shea
P.S. No bees were harmed for the purpose of this story. The photo of the honeybee was made possible because of the simple fact our Little Man is an insect lover from way back and happened to have this bee safely stored (not living) in his bug catcher….
Previous conversations