Live Simply. Dream Big. Be Grateful. Give Love. Laugh Lots.
Unknown
Here are three quirky Christmas decorating ideas showing how nature can be incorporated to create your own personalised and simplistic festive style. These concepts will especially appeal to those who, although love decorating the house for the coming season, suffer from a bad case of 'consumer overwhelm' when they arrive at the local shopping centre or mall.
Feature Tree Branches As Supports
These first images have been Captured By Karlie as my Sister shares inspiration for what can be achieved when you think and look, outside the 'Christmas box'.

Invest your time in sorting through last years decoration collection and then take a walk around the garden to search for the finishing touches. I can't think of two more positive and grounding activities to do than connect with nature and create uncluttered, beautiful corners in my home – can you?
Construct Your Own Christmas Tree
This idea evolved from 'mooching' around a homeware store filled with beautiful displays designed to decorate your home. Nanny decided that finding branches in the garden for her Christmas Tree was a much better option than paying for replica ones. After reading this heartbreaking story by 1 Million Women regarding the sacrifices made by employees in the Chinese village of Yiwu (which produce 60% of the world's Christmas decorations), I couldn't agree with her more!
After she added some colour and sparkle to these branches, the lounge room centre piece was complete.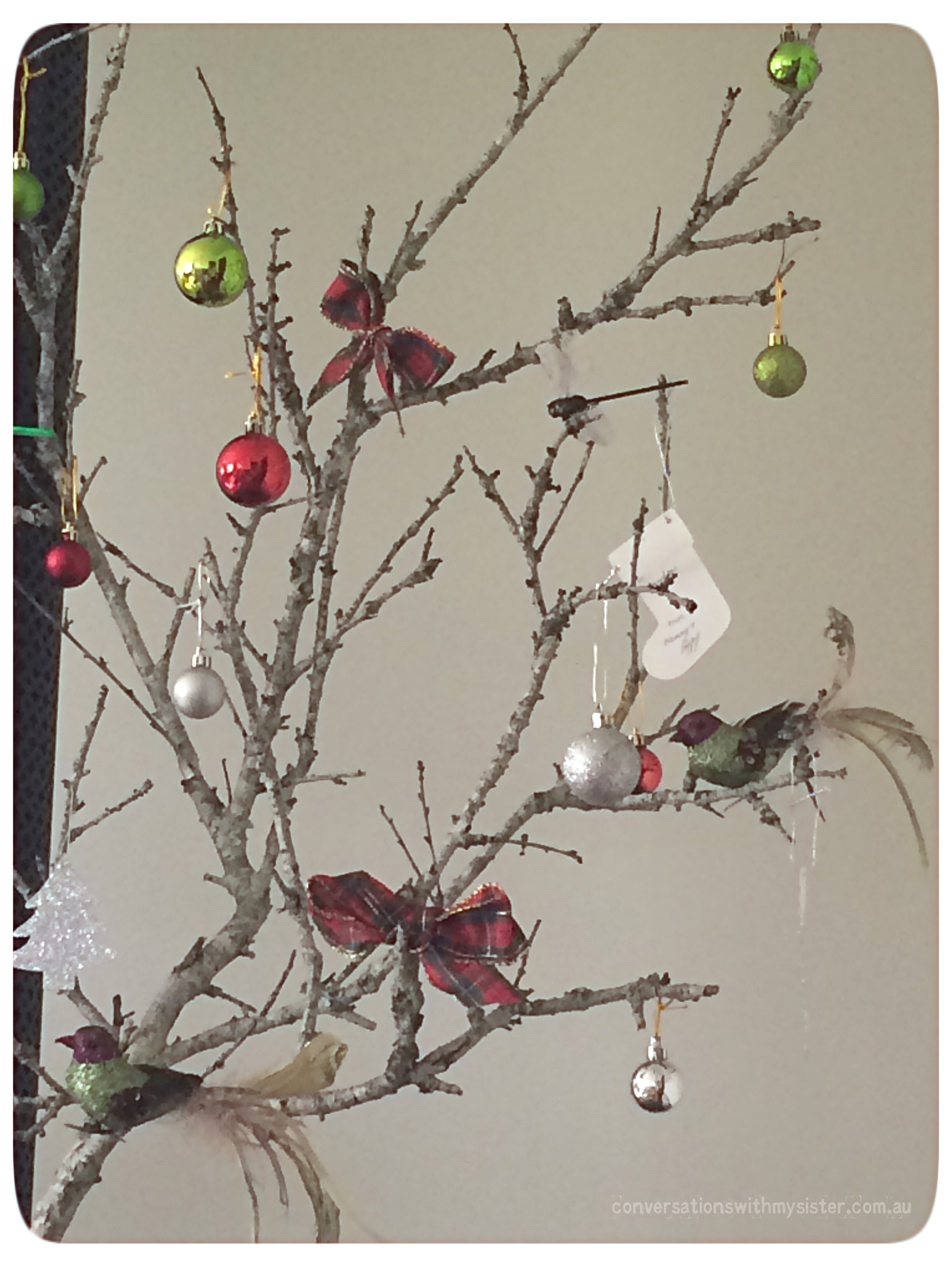 Decorating A Potted Plant
Regular readers might remember last years Christmas post which shared the great debate as to 'Real or Fake' Christmas Trees. Within this post I also shared my treasured decorations which have been collected and gifted to me from all over the world. Traditionally our house isn't overly covered in Christmas every year but our tree is grand. This year however, the year I named 'Less is More', things are a bit different.
Our family tree and decorations have all been stored in Australia as we have moved abroad to embrace the challenge of 'Less Stuff, More Experiences'. Simple nesting has begun and we are the proud owners of our first potted plant – which nicely doubles as a Christmas tree. Complete with pot cover redesigned from a brown paper shopping bag.
Who else has found themselves 'away' from the traditions of 'home' and found a creative way to bring the festive season to life?
 
'Real' Traditional
Lastly my biggest surprise so far – watching the excitement on our children's faces as they found this 'real tree', brought it home and then lovingly (and ever so strategically), decorated it. Not a peep out of them regarding missing our traditional and spectacular tree, just proud moments with the presentation of this one…and the promise to water and care for it all year round!
Sometimes the simple things in life are often the best…!
*** Hot Off The Press ***
Recently I was invited to join the Biome Blog Program. This is such a great opportunity for me to stretch my writing wings and I'm just a bit excited! My first post, where I share some useful tips for reusing wrapping paper, has gone live today – Creative and Conscientious Christmas! Love to hear what you think. X
I'd like to finish by wishing you all a Merry Christmas – I hope this year is rounding up to be one of your best yet!
I personally can't thank you enough for all the support you have shown CWMS over the last 12 months. I sincerely hope the time you have invested reading these posts, checking in on discoveries I have shared on Facebook and following our family adventures on Instagram has entertained and inspired you on your journey of a Happy, Healthy and Sustainable life.
I am looking forward to hearing all about the success you have enjoyed this year with Naming Your Year and will check back in the New Year to share my ambitions for 2016 – The Year Where…
Join the conversation
Comment Section Below || Instagram || Facebook || Pinterest
Pin For Later
Until then keep smiling, be safe and have fun!!
XShea
P.S Love to see your creative touches in the preparation for the festive season #itsbeginningtolookalotlikechristmas 🙂
Previous conversations