Introducing the newest category for CWMS Out of the Man Cave
This quirky and unique jigsaw piece plate certainly is a terrific conversation starter at dinner parties. It is a perfect example of taking something no longer needed in its original form and upcycling it into something new.
The 'Royal We' are responsible for bringing this clever and practical idea to life:
One insightful person to find the idea and file the tear sheet away for a rainy day in a Home Inspiration Folder (me).
PLUS
Someone who is handy with a saw to make it happen. My Husband might need a bit of encouragement and a touch of nagging to get started but, once he is inspired, he really is quite clever.
Full credit for this idea must go to Australian Lifestyle Magazine Better Homes and Gardens.
The timber for this project was originally the shelves from the linen cupboard we removed from our first 'reno' house – a 1930's original Queenslander. My husband squirrelled them away knowing one day the pieces of solid timber could be upcycled and made into something new.
    You will need:
Timber at least 10mm thick
Paper, pencil, eraser
Jigsaw with a fine scroll blade
Belt sander
Dremel
Sandpaper
Food Grade Tongue Oil with brush (sorry forgot about the brush when I took the photo)
Step One
Draw and cut out the template for your jigsaw piece plate on paper.
The size is determined by how many pieces you are aiming for out of your timber.
Ours were 20cm squared which ensured six jigsaw pieces could be cut out of the timber you have available.
Step Two
Next trace your outline on the piece of timber
Step Three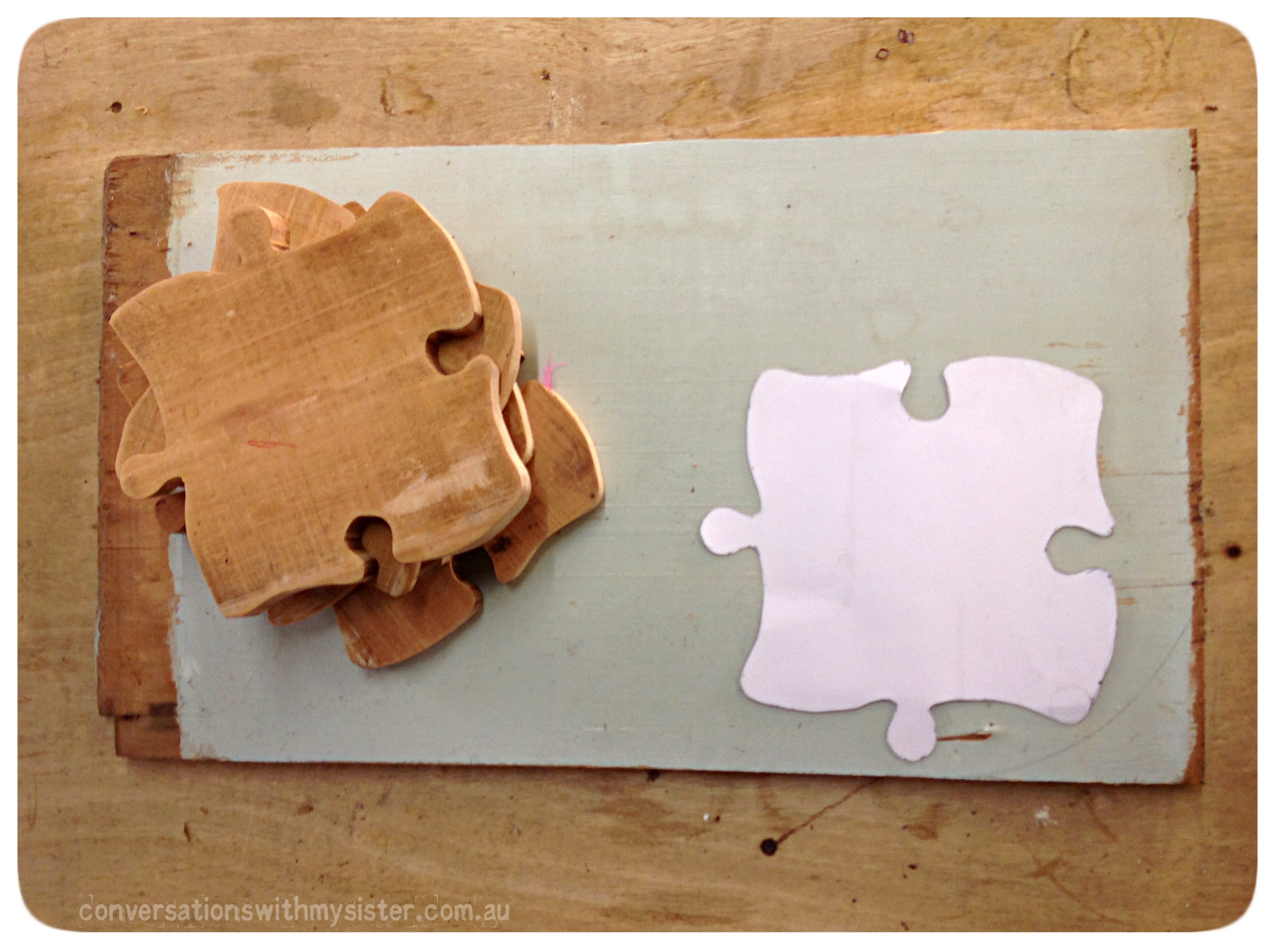 Cut out your first jigsaw piece plate, this can then be used as a template.
Step Four
Sand the finished pieces with the belt sander till you achieve your desired look.
A dremel works well to clean up the edges inside the smaller areas.
 Finish by hand sanding for detailing.
Step Five
The last stage is staining.
We used Feast Watson Kitchen Timber Oil.
Side number one and two – how did we do?
They actually look great as a centre piece on the table as well.
Side two features both My Husband's and his Poppy's brand burnt on as his signature…
We have also made wooden pizza boards out of this timber which quickly became highly sort after in our family, so therefore made perfect gifts. These however, we kept for ourselves…😝
Keen to have a go yourself?
We would love to see your results with this project. Please share pictures of your Jigsaw Piece Plate's once you have completed them – were the instructions clear and helpful?
Join the conversation
Comment Section Below || Instagram || Facebook || Pinterest
Pin For Later
Continue Reading…
Best of luck and most importantly enjoy!
XShea
 Previous Conversations