"We don't make skincare with the intention to look, smell or feel good; it's created to make a difference on a physical, mental and emotional level."
Black Chicken Remedies
Living in a desert climate is undeniably hot, so choosing an effective deodorant is very high on the priority list. When you add a commitment to using natural, non toxic products, things can get a bit tricky because, let's face it, there is a lot riding on choosing one which actually works.
Black Chicken Deodorant Paste has been recommended by more than one highly respected influencer and regularly pops up on my social media feed so, time to see what all the hype is for myself. A deodorant called Black Chicken. You have to admit the name itself sparks a certain curiosity, so I was keen to find out the story behind that too!
It was May when I opened my first tub and the trial began. Things were definitely starting to heat up here in the the Middle East and I thought highs of around 40 degrees were the perfect temperature to ease into a new product. This is what I uncovered…
Ingredients and Fragrance
Black Chicken Deodorant Paste is 100% vegan, cruelty free and contains all natural ingredients, eight of which are *certified organic.
Shea Butter*, Coconut oil*, Camellia Tea oil*, Sodium Bicarbonate, Arrowroot, Kaolin Clay, Vitamin E oil, Vegetable Glycerine* and Essential Oils – Peppermint*, Cajaput*, Mandarin, Clove, Rose Geranium, Lime*, Lavender* and Cedarwood.
This award winning combination works together to absorb moisture and act against bacteria while producing a calming scent. I have been racking my brains trying to find the perfect word to describe the unisex fragrance and have settled on 'earthy'. At first I wondered whether using a perfume would still be necessary, however, the scent from the deodorant neutralises almost immediately upon application and doesn't compete with added perfumes at all.
For those looking for more detailed information about these ingredients, head over to the Black Chicken Remedies Website where you will find a very comprehensible breakdown.
Packaging 
The deodorant comes in both 75g and 15g plastic tubs, the smaller of the two promoted as travel size. You only need to purchase this smaller size once and then you can top it up from the larger one. Mental note to self is to carry the travel size onboard with me during our next long-haul flight as I could definitely have done with reapplication during my last 24+ hour journey.
I must admit I would love to see an alternative to plastic packaging however, it is recyclable.
Texture and How Much To Use
Black Chicken Deodorant is a true conversation starter for more reasons than just its name. The fact that the product is a paste, almost like a soft clay, adds to its uniqueness and I guarantee this consistency will leave your skin feeling super soft.
The most obvious application method is scooping the paste out with the tips of your fingers and rubbing it into your armpits. This is a first for me and hasn't been an issue however, there are others who have taken a bit to get used to this 'hands on' approach. If this bothers you try using a spatular – a wooden one, just like Beauticians use to apply wax, which should do the trick?
As with most things, once you understand the 'why' behind a decision, you can deal with the situation more gracefully.
"The reason we don't make our deodorant paste a stick is that in order to make it hard enough we would need to add alcohol, and we want to keep our products natural and chemical free!"
The only aspect of the application which I have had to adjust to (and this is a work-in-progress), is how much I use. I have found myself being a bit heavy handed when distracted or in a hurry so, I started using the travel size for everyday. I have found reaching for a smaller container has naturally helped with my 'quantity' control. Black Chicken Deodorant Paste is a quality product which is highly concentrated so, the perfect amount would be approximately the size of your finger nail.
Effectiveness
I am excited to report I have found Black Chicken Deodorant Paste to be just brilliant. We tackled the beginning of the desert summer together here in the UAE and were a perfect match. It has travelled with me on safari in Africa and home to Australia without skipping a beat and I am just coming to the end of my second tub – so the 75g container has lasted around three months.
For those keen to make the switch from conventional to natural deodorant, you first need to understand your body requires time to detox and this can sometimes take a couple of weeks. It is important to tolerate this process before judging the effectiveness of your chosen natural product.
Natural deodorants are designed to allow the body to perspire; this body function allows the skin to breath. The role of the deodorant is to simply block odour causing bacteria. There is great explanation of this process, in much more detail, on the Biome Eco Stores Website.
This is why there are no aluminium salts in Black Chicken Deodorant Paste as they believe closing the sweat glands to prevent perspiration is not promoting wellbeing.
Since I am committed to give an honest review I will say the one challenge I have is, although the paste is invisible on my skin, it has left a slight discolouration under the armholes of certain tops. I am wondering whether this is due to the amount I use (refer to above). I am interested to hear if this happens to anyone else?
In saying that, the extra attention needed during washing hasn't hindered my overall positive opinion of the product.
I am so confident in recommending this deodorant that during my last visit home to Australia I gave it out as gifts – under the proviso the receivers gave me an honest review to add to this post.
Need a second (or third) opinion…
Deodorants really are such a personal choice and what works for some, doesn't work for others. Its just how it is so, with that in mind, I have enlisted some other trusted opinions for your convenience.
My Mum: As a long-time user of various Natural Crystal deodorants, I was pleasantly surprised how easy it was to transition to using Axilla Deodorant Paste – I have to say it felt a little strange actually applying the paste at first but took no time to get used to it. It certainly gets a big tick from me and works a treat even in the humid Queensland weather. BTW love the fragrance and I can easily see that it would appeal to both males and females!!
My Sister: Reluctant to sway from my already successful deodorant, I was convinced by Shea to try this "Black Chicken", aluminium free deodorant – with a name like that I was definitely intrigued. Initially, I was not so sure about having to apply a paste myself but it has completely grown on me. I love that it has a very subtle smell, is a nice creamy texture which needs no drying time, it doesn't transfer onto my clothes and I can apply it after my waxing with no discomfort. Oh and absolutely no unwanted smells from my body odour. Success!!
My Sister-in-law: This deodorant has been amazing. I have been looking for a natural alternative to my usual deodorant after feeling a little uneasy about aerosols while breastfeeding. This stuff is the real deal. Exercising, working or just everyday life, it's the first natural deodorant that I feel I can trust. I highly recommend it. Thank you Shea for recommending it! Love it! X
My Goddaughter: Before I used Black Chicken deodorant I had troubles with bad body odour, especially in the summer. So when my 'Fairy' Godmother (Shea 😜) told me this natural deodorant could possibly fix my problem I was eager to test it! I am very pleased with the results as, after a few days of using Black Chicken deodorant, I have noticed I have stopped giving off bad body odours which made me feel much more confident about myself.
My Cousin: I love black chicken deodorant. It smells amazing and leaves you without any worry about the effectiveness of the product. It is easy to use. The only thing that I have noticed is the discolouration of my white shirts after I have used it a few times. I just need to pay extra attention when I wash the shirts.
———- // ———-
Each of these ladies were asked to give an honest review and I was pleasantly surprised when they all came through as positive.
About That Name
"On my dining room table, in a little bowl with a black chicken painted on it, I began blending essential oils and therapeutic botanical extracts to create a natural remedy for my condition. That little bowl with a chicken painted on it started my skin care company Black Chicken Remedies."
And such a gorgeous little bowl it is too – see it for yourself here.
CWMS is passionate about supporting small businesses (with a definite soft spot for Made in Australia) and always curious to uncover the founding story. With a name like Black Chicken, I was especially keen to delve deeper and have discovered, this Company was established as a natural progression after enjoying success conquering personal health issues.
Purchasing and Discount Offers
Black Chicken Deodorant can be bought from the company website.  Buy direct and receive a 10% discount for your first order and also enjoy quantity discounts if you buy three or more of the 75g size, this is great for international customers like myself. It also provides the perfect opportunity to save if you are looking for quality stocking fillers for the coming festive season.
It is also stocked at Biome Eco Stores, our favourite Eco Store – I believe it is their best selling deodorant!
Both businesses provide worldwide shipping.
Pin For Later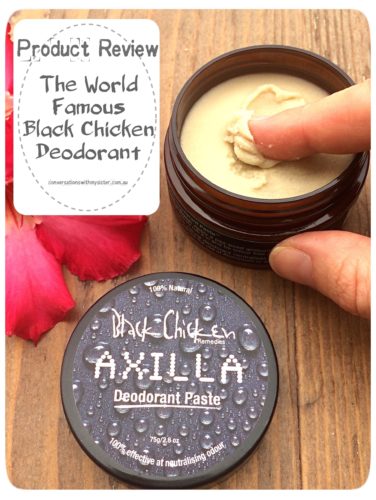 Have you used the Black Chicken Deodorant Paste or the new one designed for Sensitive Skin? Did it work effectively for you and would you recommend it to others? Maybe you are a fan of the other products in their exclusive range. We would love to hear about your experience so others in this community can benefit from your advice. Please join the conversation…
Comment Section Below👇|| Instagram || Facebook || Pinterest
X Shea
Disclosure: Included in this article are affiliate links to Black Chicken Remedies as well as Biome our preferred Eco Store which, when clicked, provide CWMS with a small commission at no extra expense to you. The deodorant was independently purchased out of curiosity so you can be assured all reviews and opinions are that of our own. CWMS is excited to share this discovery and to start conversations which align with our Keeping it R.E.A.L ethos.
Previous conversations