Quite a few years ago now, a group of eager cousins ranging from the age of around 10 years old and under, dominated the NSW ski fields (intentionally) dressed from head to toe in solid red. We were known as 'The Red Brigade' and, as long as we stuck together, we stood out a mile (safety in numbers) and our Parents who were also on the ski fields, could keep an eye on us. Our Parents were the first generation of cousins to develop a passion for skiing and it was time to introduce us kids to the sport. Fast forward a couple of decades and it is our turn, as parents ourselves, to share the love of the snow with our kids and continue the tradition of family ski holidays.
A family tradition is a family tradition and so it felt completely natural to book our very first holiday to Queenstown (back in 2009) with Cousins. What was completely random was unexpectedly running into original members of 'The Red Brigade' at the NZSKI Snow Centre, while we were organising our lift passes. One of the youngest members had just arrived on the same day with her Mum for a Mother and Daughter ski holiday. Even more random was that their accommodation was conveniently located at the end of our street. So family holidays and skiing with cousins continues…
Part one of this series, Winter Holiday in Queenstown, focused on hints to help with organising your trip, you can follow this link if you need to backtrack. If the rest of you are ready to hit the slopes you will need to organise lift passes and hire your gear.
Unless you buy a season pass we have found lift passes are the same price whether they are part of your holiday package or you are buying them day-to-day. They are issued at the NZSKI Snow Centre in Queenstown or at one the service desks once you are on the mountain. The lift passes for Coronet Peak, The Remarkables and Mt Hutt are managed through a system called a 'mypass'. First you will be photographed for ID purposes then issued with an electronic card the size of a credit card. Once you have your card it's yours to use year after year and you can manage the features online. It is very straight forward to add lift pass credits, check your vertical miles and deposit NZ dollars for use as a debit card to pay for all services during your time on the mountain.
If you are heading out to Cardrona or Treble Cone for the day, you can organise  lift passes or OnePassNZ on site, as they are managed separately to the Queenstown region.
J&D Ski and Board Rental is a small, local business which has secured its position in the competitive market of gear hire and been successfully operating in Queenstown since 1974. Each year we have found them to come in on par as one of the most reasonably priced hire companies in Queenstown and their updated equipment is personally fitted to meet your individual size and skill level. It is safe to say you are in good hands once you walk through the door and what might be lacking in company size, is made up with personal service only a small business can offer, topped off with invaluable local knowledge.
If you are a snow boarder, please ensure you pick up a set of wrist guards or gloves with built in wrist support. Although the Queenstown Emergency Department is a pleasant place to spend a whole, entire, morning, it is much more fun to stay on the mountain and snow board. Just remember, nursing a serious injury automatically upgrades you to babysitter for the remainder of the holiday….
The Queenstown snow scene has two mountains within a short driving distance, Coronet Peak and The Remarkables, which attract a broad range of age groups, both on skies and snowboards. They are accessible by car or you can book a seat on the Snowline Express bus from the Snow Centre in town. The bus is our preferred option for travelling to The Remarkables which is around a 40 minute slightly hairy road trip. Coronet peak is an easy 20 minute drive from Queenstown on a fully sealed road, which feels completely safe to tackle even for us Aussies lacking in 'snow mountain driving' experience. Both locations have all the features you would expect to find such as runs designed for all ski/boarding levels, gear hire, retail shop, ticket office, lockers, restaurant facilities, chair lifts, conveyor lifts, t-bar, ski school, crèche and fun zones. Coronet Peak however, has a few hidden gems not to be missed.
Tucked away in the mountain, down near the rocky gully t-bar, is Heidi's Hut. You just glide right up to the door and click off your boards, as it is the perfect place to rest and enjoy a mulled wine or hot chocolate during the day. They also open for dinner on a Friday night, you just need to remember to book.
Coronet Peak opened a new Ice Bar right in the ski fields next to Greengates chair lift, where you are also welcome to ski/board right on in for a cold drink or hot food. Relax on bean bags, sit on chairs upcycled from pre loved ski's/snow boards (very cool!) or hang out resting against wine barrels, watching everyone go past. If you were really lucky last year you would have seen a lady who thought she was still young enough to down peach schnapps in the 'a.m', only to sadly realise she was not. Hope that young guy enjoyed the free drink which was paid forward…
Coronet Peak is the only mountain where the whole family can enjoy night skiing on Friday and Saturday night. They have music playing (usually live) out on the deck, the restaurant is open, the mountain is lit up and the runs are re-groomed for the session. If you get there early enough it is great to watch the snow grooming machines head out with lights blazing to smooth out the surface. There is a full story to be written in the future on just how cool an experience this is, but for now just know night skiing is highly recommended.
Cardrona is roughly one hours drive (depending on daily road conditions) and the perfect destination for those wanting a change of scenery from the Queenstown ski slopes. The trip from Queenstown to Cardrona is spectacular and once you arrive you feel like you have been transported to a little European village. Even though on-mountain(looks amazing!) and off-mountain accommodation is available in and around Cardrona, the options are limited. At this stage we have found, as far as meeting the budget and providing a variety of activities for our young family, you can't beat Queenstown. So at this stage Cardrona remains a firm favourite place to visit, for a day trip. You will find this ski/boarding location is fully equipped with all the facilities previously mentioned at locations around Queenstown, plus a few extra surprises.
One of the draw cards at Cardrona, apart from the change of terrain and breathtaking scenery, is the Parks and Pipes – think oversized skate park built into the snow. At this point of the story it would be amazing if a snazzy image appeared with me carving up the half pipe – but no! It is incredible enough just to be a spectator and appreciate the skill some of these sportsmen and women demonstrate.
It is almost mandatory to stop at the Cardrona Hotel for a drink and some dinner on your way home to Queenstown – you drive straight past it. Built in 1863 this historic pub is just the place to unwind after a day on the piste. Don't be put off by the number of cars pouring into the car park as there is enough room for everyone. Head out the back to the beer garden where you can warm up around the fires enjoying a mulled wine, while the children roast you up some marshmallows.
Little Man was five years old just in time for last years New Zealand holiday – old and keen enough to attend the Kea Club Ski School. He enjoyed his first day of skiing so much that even after a six hour session, he was still wasn't ready to take off his skies to go home. It was really something watching him coming down the beginner slopes working on his 'pizza' (known as 'snow plough' in my day). By the end of our holiday we could form the 'Family Train' down a blue run and he was holding his own at a comfortable pace. It was awesome and the absolute highlight of our holiday was having him right there beside us enjoying his new skill. Took me right back to my childhood and the 'Red Brigade' days and made me realise this is the beginning of an exciting change of dynamics for our future snow holidays.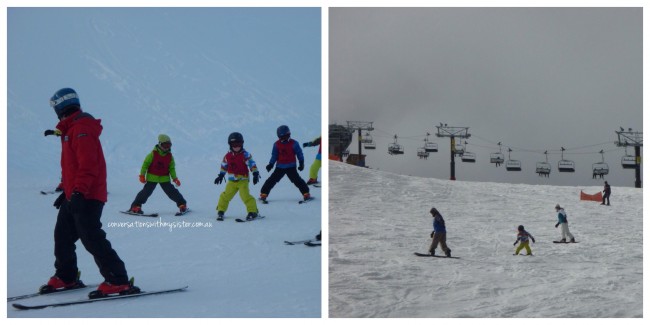 Meanwhile our Baby Girl (then 15 months old), happily spent the 'snow' days playing with her O'ma (her Grandmother) and people-watching from inside the warmth of the base camp, while we were up the mountain having fun. A doting O'ma all to herself, pram on hand for regular sleeps and a pre-packed picnic bag full of food as, although the restaurant serves delicious food, buying lunches everyday is an extra expense we avoid. She was completely fussed over and in her element. We all meet up for food and drink breaks through-out the day which is also the perfect opportunity to sit around bragging about how good we think we look coming down the mountain…!
Along with individuals and couples slicing through the powder on the mountain, it is refreshing to see plenty of families just hanging out having a great time together. As we continually form opinions on how we intend to bring up our children, holidays such as these reinforce how important it is to take a break and give each other time, quality time, where everyone has fun and laughs together. Who was it that said 'families who play together, stay together'?
Will my Daughter want to have a Mother and Daughter holiday with me when she is an adult? Maybe, as long as her beloved Daddy and Big Brother come along as well…
As we enter into the the sixth month of my year of Striving for Balance, it has become clear to me just how tricky this goal of 'Balance' is to achieve. We didn't make it to the snow for our annual family holiday this year, however, we were lucky enough to enjoy an unexpected visit to Perth in WA. You can read about our trip here. Scheduling in holidays has been high on my priority list for as long as I can remember and now, as a parent, enjoying time out and a change of scenery has taken on a whole new meaning. We have two children to share our love of adventure with us as we endeavour to balance our lives with quality family time – role models who have come before us have proven this is definitely worth investing in!
Do you have some advice or annual holiday traditions you could share, which you and your family enjoy together? Let's swamp Facebook and Instagram with inspiration and race each other to be first to write up some advice to others in the comment section below…
Lastly, to all you people enjoying winter activities in the 'Southern Hemisphere', I sincerely hope you have a fab time. Sounds to me like the ski fields of Australia are the place to visit this year with Megablizzards providing a windy, yet incredible snow fall to start off the season. Maybe it's time we did a call out to all the members of the 'Red Brigade' and have ourselves a reunion at Smiggins…
– Shea
Previous conversations