Madinat Jumeirah is committed to delivering experiences that protect and preserve the environment, biodiversity, culture and heritage of the UAE.
Madinat Jumeirah 
It hits you the second you enter the long imposing drive way – the extravagance, elegance and luxury that is Madinat Jumeirah in Dubai.
Allow me to take you on a journey, to a place where you float, yes literally float, from one area to another. A haven where the indulgence of sleeping in is expected and you say "yes please" when asked "can I help you Ma-am". The biggest decision you are going to have to make during this experience is, deciding which restaurant to reserve a table at for dinner each night.
And one more thing, bring the kids. There is enough room and variety of activities, including a Turtle Rehabilitation Project and Waterpark, on offer for everyone to enjoy…
My dream began as our car slowly made it's way up the grand driveway, past the golden life-size horse statues, continued around the spectacular water feature and came to a stop in the valet circle. The only sound to be heard was my jaw hitting my lap as I vaguely remember my Husband saying something along the lines of "Happy Wedding Anniversary my love, this weekend I'm going to spoil you all."
Now I have pondered long and hard about how one writes a post which does the luxurious Madinat Jumeirah justice. Realising it is impossible to share with you all the details about a Resort which spans across 40 hectares, is made up of three hotels, 29 traditional summerhouses and seven Jumeirah Malakiya Villas, I will stick to telling you all about #mymadinatjumeirah – complete with a visual diary of our favourite highlights.
And, when you make it to the end, I'd love to hear your thoughts on whether you would choose this 'experience' to mark such milestones as 10 years of marriage 😍 over 'stuff' made out of 'tin'…?
Transport
You can't dispute the fact that water has the ability to create a calm, contented and relaxed state of wellbeing. Being slowly rocked on an Abra, as the skilled driver navigates the picturesque canals, creates the perfect ambience to ensure you leave the hustle of the real world behind and succumb to the unique charm of this exotic destination.
The traditional wooden Abras aren't the only way to travel around Madinat Jumeirah however, I am pretty sure you would choose this novelty over the gulf-style buggies as your preferred mode of transport.
There is no other way to truly experience the three kilometres of crystal clear waterways, stare in awe at the architecture inspired by ancient Arabia or, as those of us who live here in the desert appreciate, enjoy the vibrant colours and sweet sounds of the birds in the landscaped gardens. Being on board an Abra just on sunset is a must, especially around the main lagoon where you have an uninterrupted view of the incredible Dubai landmark which is the Burj Al Arab.
 Your accommodation host can organise your transport on request or, you can sit and enjoy the surrounds as you wait at one of the many Abra stops dotted on the edge of the waterways around the Resort.
Accommodation
It is safe to say Madinat Jumeirah can accommodate every fantasy of decadence and luxury you could ever wish for in a world of accommodation choices. Our perfect fit was a summerhouse in Dar Al Masyaf which really was "a luxurious interpretation of authentic Arabia".
You might enter Madinat Jumeirah through the main Reception when you first arrive however, all your checking in and further booking requests are done through the personalised Butler service at your summerhouse. Fall instantly in love with the decor of traditional lanterns, oversized pots and colours of the Arabian Majlis (outdoor courtyard), where you can sit, relax and enjoy being served beverages and canapés each evening, provided you haven't arrived on a dry night…!
The charm of the Middle East follows through each individual room and the attention to detail, as I'm sure you can imagine, is second to none. I could talk you through each of these features however, there are limited reasons to hang about in your room.
Dining 
Breakfast and dinner was included in our Madinat Jumeirah accommodation package and, we discovered, there is no substitute for submersing yourself in the Resorts atmosphere and whole heartedly enjoying both the quality and range of authentic cuisine (virtually) on your doorstep.
You have the luxury of beginning your day with a buffet, represented by food choices from most countries of the world and guaranteed to suit every member of your family. The chefs have thought of everything from cereal to rice dishes, sweet or savoury and, my personal favourite, an egg station with omelettes made to order. Top off your morning with fresh juices, smoothies, tea and/or highly aromatic coffee.
"In 2010, Madinat Jumeirah was the first hotel in UAE to implement the Bokashi Compost Programme to improve environmental stability. This programme produces organic compost that is used in the resort's gardens to enrich the soil and improve its water-holding qualities. On average, 2.1 tonnes of raw food waste are recycled each month, and this compost is also used to fertilise the hotel's organic herb garden".
When it comes to dinner you really are spoilt for choice with quality, themed restaurants only an Abra ride away. I wasn't joking when I mentioned earlier how choosing a restaurant each night, will be the biggest decision to make during your stay. You certainly will need more time than a long weekend has to offer, to visit all of the 50 restaurants and bars during your evenings at Madinat Jumeirah.
If you and your family love Spanish tapas and can't pass up the opportunity to sample freshly prepared Paella, then we highly recommend you visit Al Hambra. If you are having trouble deciding on just one exotic region for your evening meal, head to the Arboretum Restaurant and enjoy an enticing variety. For those looking for a deliciously colourful and interactive dining experience, topped off with an entertaining and playful atmosphere, then you MUST visit Tortuga. This Mexican restaurant came in as our family's favourite dining experience during this visit. Our children especially loved being taught how to make guacamole, by our ever-so-patient waiter!
Recreation
There is no shortage of water fun at Madinat Jumeirah which begins with the fact that the resort is set right alongside the coast. This provides guests with direct access to their own private beach complete with a full range of water sports.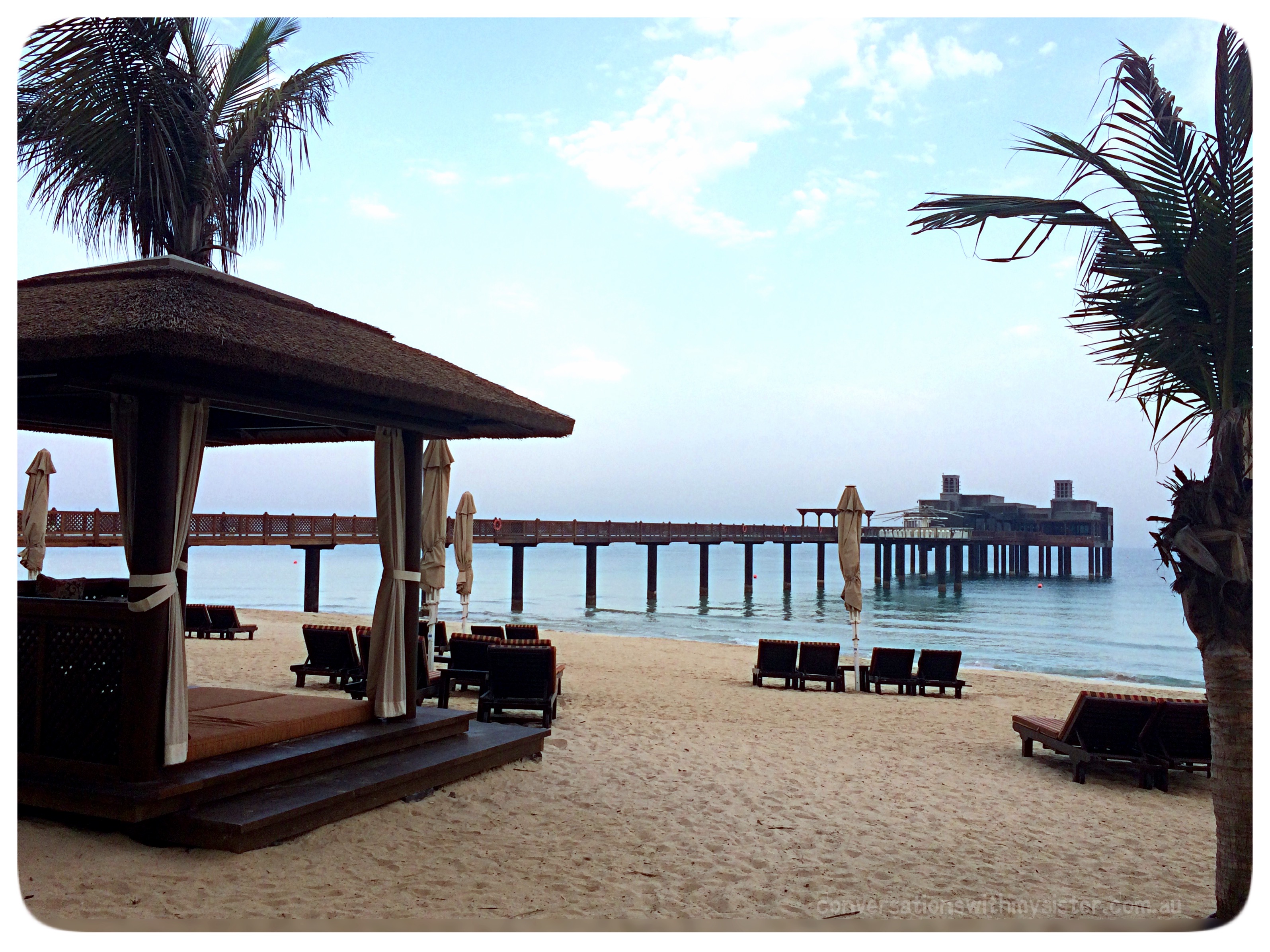 If swimming pools are more your thing, you are in for a treat. Located in the grounds of our summerhouse was an exclusive and fully supervised swimming pool which we found to be (more often than not)  peaceful and quiet.
Those looking to be in the heart of all the action can head to the largest swimming pool at Jumeirah Al Qasr next to the pier, or the rooftop pool at Jumeirah Mina A'Salam. 
While you are relaxing poolside you can also enjoy refreshments from the adjoining bars.
It is near the Jumeirah Al Qasr where you will find this great little water park and kids club.
We didn't use the kids club facility during our visit so, for more insights into this facility, pop over to Dubai Mother. Here Waheeba shares her family's Staycation experience in her popular Family Lifestyle Blog here.
On further exploration of this resort I was blown away to discover a shopping precinct with everything from a Pharmacy, Groceries, Optometrist, Fashion, Beauty, Holiday Essentials and even a State-of-the-Art Theatre which showcases live performances. These and more, can be found entwined within the passage ways of the Madinat Jumeirah Souk – which was unfortunately closed during the time I was out for my walk!!
I have since learnt about the Talise Fitness Club and the Talise Spa complete with Yoga classes and Wellness Centre. You literally don't need to leave the Resort for anything!
Turtle Rehabilitation Project and Wildlife
The most unique and an absolute highlight of visiting Madinat Jumeirah, is the opportunity to be submersed in the ecosystem which they have created.
Over the past 10 years, Madinat Jumeirah, in conjunction with the Burj Al Arab Jumeirah's Aquarium, have been responsible for releasing 700 turtles back into the ocean. We were privileged enough to see three turtles enjoying their final stages of rehabilitation during our stay at Madinat Jumeirah.
Unfortunately our stay coincided with the warmer months so only the Hawksbill Turtles, which are native to the Middle East, were outside in the viewing pools due to the hotter conditions. Next time we will definitely coordinate our visit so we can participate in feeding time, which is open to the public on a Wednesday and Saturday.
You can read more about the Turtle Rehabilitation Program in Dubai in a detailed Blog Post written by Ginger & Scotch here.
While you could sit and watch the hypnotic routines of the turtles for hours, there are also plenty of fish swimming around in the water ways and, if you are really lucky, you might also come across a family of ducks. Our children kept us updated on the sightings and activities of the wildlife, a unique attraction which kept them and (if I'm going to be completely honest) us, occupied for hours.
"Madinat Jumeirah is proudly associated with the following organisations:
• Green Globe – certification for sustainable tourism
• Emirates Environmental Group – A local non-profit organization dedicated to promoting civic awareness and community action to protect the local environment of the UAE
• Dubai Natural History Group – A non-profit, all-volunteer group with a shared interest in learning more about natural history in general and of the UAE in particular "
Wild Wadi Waterpark
Wild Wadi Waterpark is located in front of the Burj Al Arab, a short, yet picturesque, golf buggy ride, complimentary for guests of Madinat Jumeirah, to enjoy. The perfect relaxing start to ease you into a high adrenalin day, enjoying as many of the 30 rides and attractions you are brave enough, or in some cases tall enough, to venture aboard.
Not that one needs anymore reasons to stay at Madinat Jumeirah however, since the intention of this weekend away was to spoil the whole family, we happily made use of our complimentary and unlimited entry into Wild Wadi Waterpark. Visiting a waterpark was on our Little Girl's fourth Birthday list earlier in the year and, since our Madinat Jumeirah accommodation package included a family pass, it was the perfect opportunity to deliver.
This was the first visit we have had to a water park and we had the – Best. Fun. Ever!!!
Our young family was kept entertained for the whole day and unanimously agreed that floating around the twists and turns of the Wadi, with the occasional rise of heart rate over the rapids, was definitely the favourite ride. After you have climbed all the steps you can climb, stomached all the 'drops' you can stomach and fired water guns in the play structure till you can fire no more, head to the wave pool for a bit of down time. Unless of course, your children are kind enough to let you sit back and relax in one of the many recliners available..!
Wild Wadi Waterpark has internationally licensed lifeguards, complimentary floating life vests are available in a range of sizes, a store where you can find all your water park essentials, lockers to keep your valuables safe and fast food and beverage outlets. Keep in mind this is a day out in the sun so dress appropriately, regularly apply sunscreen and make sure you have plenty of water to drink.
PLEASE NOTE that Wild Wadi Waterpark is planning its annual maintenance program and the entire park will be closed from 14 January, 2017 till 9 February, 2017 inclusively.
It is completely energising to step away from everyday routine, disappear into a dream and stay there fully submerged for how ever long one can get away with it – and then some. The real challenge is giving yourself permission to accept that slice of luxury, guilt free, when it is on offer. After all, when you Name Your Year 'One Day Is Today', publicly vowing to say 'yes' to all opportunities which come your way, you know the time is literally know, or never!
Speaking of Naming Your Year – who else has successfully stayed true to their theme all year round?
X Shea
Disclosure: CWMS has in no way or means been sponsored by Madinat Jumeirah to write this post and the thoughts and opinions expressed are purely our own. CWMS is excited to share this discovery and to start conversations which aligns with our Keeping it R.E.A.L ethos.
Join the conversation
Comments Below || Instagram || Facebook || Pinterest ||
Previous conversations